Ideas For A Romantic Oregon Coast Trip
Have a memorable romantic escape to the Oregon Coast.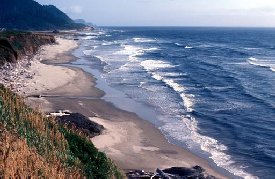 The Oregon Coast is one of our favorite places in the world, it is over 640 kilometers of pristine coastline, rugged cliffs, and dense evergreen forests as far as the eye can see. Quaint, cozy towns that serve up delicious fresh seafood meals to one-of-a-kind natural attractions, the Oregon Coast is a smorgasboard of breathtaking viewpoints and spectacular state parks. With mild temperatures year round, along with the romantic scenery and numerous outdoor recreational activities, the Oregon Coast makes for the perfect romantic getaway for any couple. The Oregon Coast is one of the best roadtrip locations in North America, making for a scenic and unforgettable voyage. What better way to spend a romantic getaway than crusing along the highway that has beautiful views out to the Pacific Ocean from your car window.

When To Visit?
The coastline of Oregon is blessed with temperate weather, making any season a perfect time to visit, all depending on what suits your tastes. From beautiful warm blue skies during the summer months to cozy winter nights gazing out at the stars hanging over the ocean, it's all up to you. Late Spring or early Fall is the time when we like to visit the coast, as you will miss out on the high tourist season, making for a more enjoyable getaway with less crowds and more empty beaches. The numerous
romantic inns
and
B&B's
that dot the coastline have reduced rates during the non-peak season, a perfect
affordable
option for those couples on a budget.
---
Cannon Beatch

Cannon Beach is a coastal gem located on the Northern Oregon Coast, which is lined with upscale shops, restaurants, galleries, and a small theater. The beach is a perfect place to rekindle your inner youth and fly a kite for the afternoon, go tide-pooling, search for sand dollars, picnic, or simply walk and marvel at the crashing waves of the Pacific Ocean. During the summer months, there are sand building contests, parades, and various concerts that attract people for all over the state. The town of Cannon Beach is amazing, with plenty of benches to enjoy a sunny afternoon snack or espresso. Blossoming flower beds, gardens, and trees line the sidewalks, it is the perfect venue to just sit and relax.
There are plenty of romantic options for accommodations in Cannon Beach. From the extravagant Stephanie Inn, The Surfsand Resort Motel and the Inn at Cannon Beach, to the cozy, rustic vacation homes, there are choices for all tastes and budgets here. Plus, for those dog lovers, many of the hotels in town accept dogs!!!

---
Astoria

At an elevation of 600 feet atop Coxcomb Hill, the Astoria Column is a towering 125 foot high historic landmark. Built in 1926, but recently restored in 1995, the column displays 14 murals that tell the history of Astoria events. We definately recommend buying a wooden glider plane from the gift shop at the base of the column, then trek up the 164 step spiral staircase to the top for sweeping views of the
Astoria Bridge
,
Pacific Ocean
,
Saddle Mountain
and
Young's Bay
. Once at the top, don't forget to let your wooden glider go and watch it soar high above the city!!! Admission is free of charge, but donations are gladly welcome.
Fort Stevens State Park, which is nearby to Astoria, is a place where you could easily spend the entire day. This is a great area to fly kites, as it is windy almost every day, or get on your walking shoes or rent a bike and travel along almost 7 miles of paved trails throughout the park. Coffenbury Lake is a great spot for a romantic picnic, spend the afternoon here at one of the many picnic tables that surround the lake. You can swim, fish, kayak, or canoe here, rentals are available at Pacific Wave. There is a interesting bird sactuary nearby, and the open water of the lake is a favorite of wind surfers, and parasailers, why not give it a try on a nice sunny afternoon? Fort Stevens State Park is located in Warrenton, follow the signs to Fort Stevens State Park.

---
Coastal Towns To Visit

The Oregon Coastline is dotted with quaint, cozy towns that each offer a unique experience upon visiting them. Below we'll outline some of our favorite stops along the coast.

Newport - At Devil's Punch Bowl, a hollow rock formation shaped like a huge punch bowl, is a good place to see tide pools, or a great location to picnic atop the undulating rocky shoreline. The park is also a popular spot for whale watching. Take a leisurely stroll along Agate Beach, or hit the shops along the Historic Pier District.

Brookings - Perfect whale watching spots along its gorgeous beaches, the weather here is mild all year round, hitting 70F in February! Only 5 miles short of the California border, Brookings offers some of the best scenery along the southern coast, with amazing giant redwoods flanking the beaches. Bring your fishing rods, this is the best fishing spot all along the coast.

Waldport - Located along the central coastline, you will find less populated beaches, a perfect place for a romantic, quiet walk for two. 25 miles south you will find the Sea Lion Caves, or get a bit adventurous and drive across the historic Alsea Bay Bridge.



Romantic Oregon Coast Roadtrips

The Oregon Coast is not meant to be travelled in one day, it is all about the journey and not the final destination. If you are looking for a few ideas for a romantic roadtrip for two, in which you can relax and truely enjoy the drive, here are some ideas.

Astoria To Brookings - Yes, it's possible to drive the entire Pacific Coast Scenic Byway in a single day, but it's also pointless. You would not have any time to experience any of the breathtaking viewpoints, secluded beaches, stunning state parks and quaint coastal towns. Highlights along the Byway are the Astoria-Megler Bridge, the resort town of Seaside, Cannon Beach, the forested ridge of Cascade Head, and the 266 foot high Munson Creek Falls. The driving distance is 350 miles, winter and spring are best to travel for whale watching, summer for best weather, with the fall for the fewest people. The length of the journey depends on you.

Winchester Bay to Coos Bay - Along the southern coastline, Winchester Bay and Lakeside have some of the highest coastal sand dunes in the world, along with sublime opportunities for fishing and boating. The sand dunes end near the towns of North Bend and Coos Bay. The trip will have you travel across three state parks, including the fragrant floral gardens at Shore Acres State Park, which are especially breathtaking during the Holiday Light Festival every December.
---
Rest And Relax On The Oregon Coast

From beautiful resorts, to decadent spa treatments, to incredible scenic beauty, there is not better place to have a romantic and relaxing getaway for two along the Oregon Coast. Here are some ideas for romance.
Yachat's Overleaf Lodge - Spend a romantic weekend for two, taking in the breathtaking views of the Pacific Ocean. The lodge offers elegant rooms with Jacuzzi tubs and an amazing spa, complete with treatments and massages as well as a beautiful tiled spa pool. www.overleaflodge.com.
Salishan Spa Resort, Gleneden Beach - views overlooking Siletz Bay will put you into a peaceful frame of mind, even before entering the resort. All of Salishan's 205 guest rooms are designed for your comfort and convenience while striking a symbiotic balance with nature. Relax and enjoy the ambiance around your own fireplace, take in the natural surroundings from your private balcony, or get some well deserved pampering at the spa. Romance Packages are available year-round, which includes one or two nights lodging and a romantic dinner for two in the Dining Room. www.salishanspa.com.
Yoga On Cannon Beach - Begin or end each day with a beach yoga class, held on beautiful Cannon Beach. Treat your body and mind to a relaxing and invigorating session of yoga as you inhale the fresh sea air and listen to the crashing waves. A perfect romantic activity for two. Class meets at the Oregon Surf Adventures office, rates change frequently.

Oregon Coast Accommodations & Restaurants Information
Tu Tu Tun Lodge
- A romantic retreat overlooking the Rogue River in Gold Beach, perfect for a couples weekend getaway. Lodging choices include individual homes, cabins, or rooms.
Oregon Bed And Breakfast Guide - A site run by the Oregon Bed and Breakfast Guild, includes all B&B's along the Oregon Coast.
Oregon Coast Vacation Rentals - Oregon Coast vacation rental home listings for Astoria, Seaside, Cannon Beach, Manzanita, Rockaway,Tillamook, Pacific City, Neskowin, Lincoln City, and more.
Oregon Coast's Best Romantic Restaurants - Fantastic section dedicated to the best dining options along the coast.
Oregon Coast Restaurant Guide - includes Cannon Beach restaurants, and hundreds of listings from towns up and down the Oregon Coast.
Have a great Vancouver Island romantic vacation or getaway in British Columbia.
Disclaimer: We have attempted to ensure this website is as accurate as possible. However, Fantastic Romantic Vacations accepts no responsibility for any loss, injury or inconvenience sustained by anyone resulting from this information. You should verify important information regarding all travel documents, health and safety, customs, and transportation with the appropriate authorities and agents before you travel.