A Romantic Holiday In London
Advice, tips, and ideas for a romantic stay in London, England.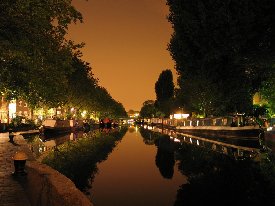 London has had the reputation for being a foggy, cold, and expensive destination for travellers over the years, but even though prices are still a bit on the high side, there are still many packages and deals available for the capital city of England. London is filled with great restaurants to dine at, decently priced cozy B&B's and small hotels to stay at, along with an abundance of attractions that will keep you occupied during your stay here. There are always new and interesting places to find and discover upon a return trip to London, which makes the city quite unique and memorable in our opinion.
There is no controlling the weather, it always has a chance of rain in London, especially during the winter months. Spring and autumn months give you the best overall mix of weather in the city, combining warm sunny days with the occasional rainy cooler day. During the winter months though, even with the cooler and wet weather, you will find some of the best accommodation deals and packages, if you don't mind bundling up with a sweater and carrying around an umbrella with you.
Travelling To And Around London

Arrival into London via air will bring you into one of five airports,
Heathrow
,
Gatwick
,
Stansted
,
London City
or
Luton
. Most travellers will arrive at Heathrow or Gatwick, the two major international airports. If you are making connections through Heathrow, please leave a little more time to clear security than you would at other airports. The bomb scares of 2005 are still having a minor delaying effect on airport security.
International train travel into London's Waterloo Station is another option if you are already planning on staying in other parts of Europe before your stay in London. Eurostar, which is one of the train companies travelling into London, is the only high speed international train service operating between the UK and France/Belgium. Journey times are currently approximately 2.5 hours from central London to central Paris, and 2 hours to central Brussels. Onward connections are available throughout Europe.

There are a number of ways to navigate your way through London. From Heathrow Airport, the best way to travel into London is via the Heathrow Express Underground. Although the Heathrow Express is considerably more expensive than the Underground Piccadilly Line, it is by far the best way to start your stay in London and well worth the investment, as taxis and buses are very expensive for airport transfers to London. The train takes you straight to the west-central Paddington Station, in clean, modern, and comfortable trains which take about 15 minutes and they do not stop at all. There are special areas to place your luggage in, which is an added bonus.
While staying in London, we highly recommend using the "tube" or The Underground instead of renting a car. The underground is fast, reliable, and more importantly, cheap. Single day Travelcards are well priced, and if you have used subway systems in other cities around the world, it will not take you long to figure out the London Underground.
Renting a car is a consideration, mostly if you are planning a out of city trip to the rural areas of England. Keep in mind, driving around London can be a hellish experience, especially during rush hour, the daily morning and afternoon commutes that are a nightmare. Car hire in the UK is expensive, but all the major rental companies operate from the airports, though most travellers will find they have no use for a car in central London. If you do plan on renting a car, remember that you are responsible for paying the congestion charge, 8 pounds per day, to drive into central London. Parking is also very costly.
One of the best ways to see everything in London, however, is free. Just get out there and explore on foot. Throw on a comfortable pair of shoes, pack your digital camera and a bottle of water in a backpack, and you're off to create your own unique tour of London.
---
Parliament And Big Ben

Two of the well known landmarks in all of London, the Parliament Buildings and Big Ben. Begin at the
Westminster Underground
station, turn left out of the station, heading east. Opposite you is the impressive
Big Ben
, part of the
Houses of Parliament
. Big Ben is actually the bell, the tower is the
Victoria Tower
, but almost everybody still calls it Big Ben. Try to get there on the hour to hear the famous
Westminster chimes
ring out. Head up the hill and cross
Westminster Bridge
, going towards
Waterloo Station
. On the far side of the bridge are some steps, before you turn left down the steps look back at the Houses of Parliament and Big Ben. This is a perfect location to take your picture with these two landmarks in the background. Make sure to smile!
---
Trafalgar Square

You're in the heart of London, so grab your loved one and walk or run through the pigeons in Trafalgar Square. It is the meeting point of people from throughout the city, along with double-decker buses, fountains, and beautfiul stone columns all within sight. Here you will get a great sense of what London is all about. Take a few minutes to snap some pictures of the 145 foot high monument, bearing a statue of
Lord Horatio Nelson
guarded by lions, marking the spot considered the center of London. The fountains are especially beautiful at nightfall, when the lights below the water illuminate the fountain and water with an surreal glow.
---
The London Eye

View the capital city from the hights of the London Eye, a ferris-wheel type ride located on the south side of the
Thames
. It has clear passenger cars that give 360 degree views of
Big Ben
,
The Thames
,
St Paul's
and much more, all from a top height of 130 meters. It's a certain must-do while in London, be sure to go at dusk and on a nice day see the sunset from the Eye.
Romantic options
are available for the Eye, with private cars for two, the
Champagne Flight
, and the
Cupids Capsule
with VIP treatment, along with dinner and a luxury box of Charbonnel et Walker pink champagne truffles for their flight.
---
Buckingham Palace

If the flag is up, that means the Queen is home. You won't be able to go in and have a nice conversation with her, but it's still a really cool thing to experience. Although Buckingham Palace may be an overrated tourist attraction, if it's your first time here, you really can't see London without a least a stop here. If you want to see the famous
changing of the guards
, get here early to beat the crowds, especially during the summer months, so you can get a good vantage point. It's usually held daily from April to July, around 11:30am in the morning. Make sure to check the times when you arrive in London.
---
Thames Cruise And Bus Tours Of London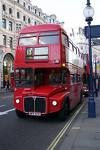 For a great way to pack a lot of sights and attractions into a day, a bus tour of London is the way to go. It is a nice casual way to see the city, all while riding on a famous red open-topped double-decker bus.
The Original London Sightseeing Tour
by bus is a must-do tour if you want to see a lot of attractions in the smallest amount of time. If it's a nice day, opt for the top of the double-decker bus, not only will you enjoy a nice sunny day while taking in the sights, it also offers the best views. The tour guides entertain you with a great commentary and supply more than adequate information on what you are seeing, as you will pass by such attractions as
The BBC
,
Piccadilly Circus
,
London Bridge
,
Tower Bridge
,
Scotland Yard
, and
The Tower of London & Westminster Abbey
.
For a different perspective of seeing London, why not take in a romantic cruise down the Thames River. Cruise barges make their way up and down the Thames river daily, and there are many points along the river in which you can book a cruise. For a unique dining experience, check out Bateaux London which consists of elegant glass and traditional boats, which give you an unparalled view of the city. Cruise on down the Thames while dining, who says you have to sit in a restaurant in order to enjoy good food? These luxury river cruises offer lunch or dinner options. Located at Embankment Pier, Victoria Embankment, 020 7925 221545.

---
Other Romantic Spots In London

Somerset House Ice Skating - If you are one of the winter visitors to London, be sure to rent a pair of skates and spend a fun few hours at Somerset House. From the end of November through January, the courtyard at Somerset turns into a winter wonderland, as you enjoy skating in this beautiful outdoor venue. If you're looking for another winter adventure here, ice climbing up a 8 meter ice wall is also on hand. Make sure to bring your ice pick!

Hyde Park & Speakers Corner - Where else can you hear people rant and rave on just about any subject? And ususally with a charming British accent too! Best to visit on a Sunday if you trip will allow you to, as there are several attractions to see. Along Bayswater Road, you will find hundreds of artists and their paintings on display, and of course, near Marble Arch you will hear the loud voices of Speakers Corner. If you feel brave enough, get yourself up there on a milkcrate and give your opinion on anything your heart desires.

London Markets - London has many markets of interest, giving you a rich glance of London life. Columbia Road flower market, Portobello Road market and Spitalfields are all worth a visit. For those who love good food, Borough Market at London Bridge is a gastronomic experience and forms a great part of a long leisurely walk from the London Eye down to Tower Bridge on the South Bank of the Thames River.

Greenwich - where time begins, located on the Thames just below Canary Wharf, it is worth the time and minimal effort to get here. You can catch a City Cruise boat from Westminster and Tower piers, and it takes about an hour to reach here. In Greenwich, you can visit the last of the great tea clippers at Cutty Sark, The Painted Hall, or the National Maritime Museum.
---
London Accomodations
With hotels in London charging sky-high rates, even in the low seasons, we recommend seeking out accommodations at a cozy
romantic B&B
. There are many areas within London in which you will find streets lined full with B&B's to choose from. For a listing of all available romantic B&B's in London, see
Tripadvisor's London Bed And Breakfast Section
.
More London Tourism Information
Romantic London Restaurants
- London is a city of romance, bursting with after-dark activities, magical sights and fabulous eateries.
LondonTown.com
have chosen a selection of restaurants that are guaranteed to make your dinner date a night to remember.
Plan Your London Holiday - The official website for tourism in London. Make your plans for a romantic holiday or honeymoon in London, England.
Hope you have a romantic holiday or honeymoon in London, UK.
Disclaimer: We have attempted to ensure this website is as accurate as possible. However, Fantastic Romantic Vacations accepts no responsibility for any loss, injury or inconvenience sustained by anyone resulting from this information. You should verify important information regarding all travel documents, health and safety, customs, and transportation with the appropriate authorities and agents before you travel.