Romantic Places To Experience In Europe
European Romantic Honeymoons And Getaways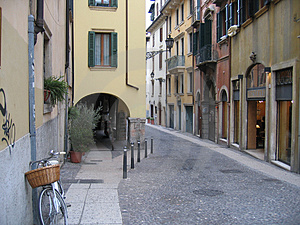 Cultural flair mixed with romantic destinations and attractions, the many faces of Europe has numerous opportunities for a great couples getaway. From the Eiffel Tower in Paris to the canals of Venice, you will find that perfect getaway, honeymoon, or a romantic spot to propose. There are many great deals for travel around Europe, including cheap transatlantic flights out of the U.S.A. and Canada, and while there, Eurail passes and a great abundance of affordable romantic hotels that cover the entire span of Europe.
Romantic Vacation Destinations In Europe

Romantic Destinations In Italy
From the romantic canals of Venice to the historic architecture of Rome, we give ideas and tips on how to get the most out of your trip to Italy.

A Romantic Paris Vacation
Romance and Paris go hand in hand. Top romantic spots and destinations in Paris, including the Eiffel Tower, Louvre Museum, Seine River Cruise, and much more. Check out our Romantic Honeymoons In Paris section, filled with information on romantic hotel packages and deals, along with the Best Places To Kiss In Paris

A Romantic London Holiday
Tips and information on what to see and do in the London capital city, along with romantic spots, activities, and attractions. From Buckingham Palace to romantic cruises on the River Thames, we'll list all the highlights of London, UK.

Best Times To Travel To Europe
Often thought of when the best time to travel to Europe is? It all depends on what you are looking for, but for us, we find the best times to travel to Europe are between April and September. Generally, you will find warm fair weather no matter where your destination is, even including the northern Scandinavian countries such as Norway, Sweden, or Finland. For the most part, Europe is at it's busiest during July and August, where you will find warmer weather, but more crowds and usually higher prices on attractions, activities, and accomodations.
Stay tuned for more romantic vacation and getaway ideas in Europe.
Disclaimer: We have attempted to ensure this website is as accurate as possible. However, Fantastic Romantic Vacations accepts no responsibility for any loss, injury or inconvenience sustained by anyone resulting from this information. You should verify important information regarding all travel documents, health and safety, customs, and transportation with the appropriate authorities and agents before you travel.