Venice Romantic Vacation Ideas, Tips, & Attractions
Attractions and Tips for Great Romantic Venice Vacations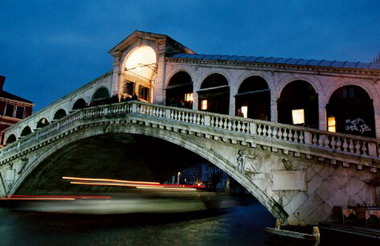 Venice is probably the most romantic destinations within Italy, with its hidden canals that weave throughout the city, couples can find romance very easy here. Plan a perfect spot to propose, enjoy a romantic dinner, or cruise in a gondola underneath The Bridge of Sighs, there are so many romantic possibilities within the city. Below we'll outline our highlights of Venice, and the must-see attractions, even if you are only spending the day there. Venice is best to explore during the morning hours, as you will find virtually empty streets, with the occasional local hurrying themselves off to work.
Campanile di San Marco

Situated in the famous
St. Mark's Square
, Campanile di San Marco sits over 320 feet high. Don't worry about being athletic, take the elevator up to the top to enjoy spectacular views of Venice. Just remember to bring your camera and to be prepared to stand in line, as it is quite busy throughout the day. The tower itself has 5 bells that toll every hour, and at the base of the tower is
Loggetta
, which is decorated with classical sculptures. Enter on the
Piazzetta side
, around the corner from the exit on the
Piazza San Marco
. The tower normally opens daily at 9:30 a.m., with closing times that vary according to the season.
The Piazzetta

Flanked by the
Doge's Palace
on one side and
Libreria Sansoviniana
on the other, The Piazzetta is a large square where you could grab an espresso and rest your feet. If you stand near the
Columns of San Marco
and
San Teodoro
in the Piazzetta, you get a nice view of the palace, the bell tower, and St. Mark's Church. Early morning is the best time to visit the square, as the afternoon finds it busy with tourists and locals.
The Rialto Bridge

Located in the
Grand Canal
, the Rialto Bridge is a landmark structure in Venice. You will be able to get great views of the canal from the bridge. Make sure to visit some of the shops and souvenir stands that line the bridge, selling glass products and jewelry. There are many restaurants and cafes within walking distance of the bridge, why not give your feet a rest and enjoy a romantic lunch or dinner, all while watching the many boats travel up and down the Grand Canal.
Ponte della Paglia

A stone bridge located next to the
Doge's Palace
, it connects
St. Mark's
and
Castello
districts in Venice. The bridge is always crowded with tourists during the day, as they try to get a picture of the famous
Bridge of Sighs
located just behind it. We recommend visiting early in the morning, as you will generally have the entire Ponte della Paglia to yourself. Standing on the bridge, you will be faced with scenic views no matter where you look. Looking west,
Piazzetta San Marco
features the
Columns of San Marco and San Teodoro
.
Riva degli Schiavoni
lies to the east and you will also be able to admire the
Bridge of Sighs
and
San Giorgio Maggiore
across the lagoon.
St. Mark's Church

Ornamented with golden facade mosaics, marble and bronze statues, and five domes, this basilica is unlike any other. This beautiful structure stands on the eastern end of
St. Mark's Square
, and is open to visitors on all days for just a few hours. Plan on wearing long sleeved shirts and skirts or pants below the knees, otherwise you will not be allowed inside. The interior is graced with gilding and mosaics, along with bronze horses from ancient Greece.
Romantic Things To Do In Venice

Romantic travel tips of things to do in Venice are endless, but we'll list some of the more popular ones here. Venice is one of the world's most romantic cities and a great choice for a romantic honeymoon or a place to propose. Venice offers a wide selection of hotel rooms and finding accommodations is not that difficult, except during certain parts of the year where the city holds several festivals.

Romantic Gondola Ride Through The Canals - what better way to experience Venice. This will give you a completely different perspective of the city than if you were to explore it on foot. Best time to travel on the canals is in the evening when they are less busy with traffic, plus it provides a romantic atmosphere as you cruise by the many sights in Venice. You can usually book a gondola ride through your hotel, but if not, many gondoliers stand near bridges offering gondola rides in St. Mark's Square during the evening hours.

Concordia Hotel - This is the only hotel in Venice that provides rooms that enjoy views of St. Mark's Church and the square. The hotel staff is pleasant, helpful, and very friendly, and you may be greeting with fresh Italian pastries upon your arrival. 18th century Venice decor awaits you in every room. Enjoy a early morning romantic breakfast for two on the first floor overlooking Piazza San Marco, or come back in the evening to have a candlelit dinner at Restaurant la Piazzetta. The Concordia Hotel in Venice is just steps away from shops, restaurants and museums. During the warmer months, live music plays in Piazza San Marco.

Ristorante Masaniello - Located in Campo Santo Stefano, about 15 minutes on foot from St. Mark's Square, Ristorante Masaniello serves delicious Neapolitan cuisine. Enjoy an open-air dining experience, filled with colorful plates, excellent service, and a fantastic romantic atmosphere, especially as night falls, blue oil lamps illuminate each table. Choose from fresh seafood dishes, meat, and mouthwatering deserts on the menu, and most waiters speak English, so you will get some help with your meal options.
Hope you found these Venice romantic vacation tips useful and we hope that you enjoy your next Venice getaway in Italy.
Disclaimer: We have attempted to ensure this website is as accurate as possible. However, Fantastic Romantic Vacations accepts no responsibility for any loss, injury or inconvenience sustained by anyone resulting from this information. You should verify important information regarding all travel documents, health and safety, customs, and transportation with the appropriate authorities and agents before you travel.