Hawaii Romantic Vacations
Romantic Vacations on Oahu, Molokai, Kauai, Maui and the Big Island!

Hawaii offers many different destinations, all within close range of one another. Here, we put together a unique romantic vacation for each of the Hawaiian islands, including the Big Island of Hawaii and the secluded island of Molokai. Enjoy these romantic tips, or create your own special getaway by using some of these tips.

Molokai - The Lodge & Beach Village at Molokai Ranch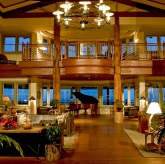 Ready for some peace and quiet? You'll find it on the island of Molokai, where the most noise you'll probably hear is at the bakery in Kaunakakai with folks lined-up for steaming hot cinnamon rolls and freshly baked breads. You can always find some interesting things to do on Molokai, take a mule ride down the steep cliff to Kalaupapa National Historical Park, take an intimate hike or bike tour, or fish with the locals in the open ocean.
The Lodge & Beach Village at Molokai Ranch is located on 65,000 acres of Molokai Ranch on the west end of Molokai. The Lodge & Beach Village at Molokai Ranch offers 22 luxury guest rooms at The Lodge in the quaint town of Maunaloa. Set atop 1,200 foot high elevation overlooking the breathtaking countryside and Pacfic Ocean below. The Beach Village is nestled amid swaying palms on a former ancient Hawaiian fishing village that is just 8 minutes down the private ranch road. Here, they offer 40 two bedroom canvas sided tentalows fronting the double crescent white sand Kaupoa Beach. The Molokai Ranch is located at 100 Maunaloa Highway, visit their website for further information. www.molokairanch.com
Hawaii (The Big Island) - Volcano National Park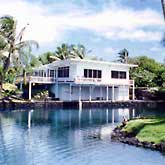 Want to spend a romantic trip next to a volcano? View active lava flows as you explore the volcano's many hiking trails and black sanded beaches. The Big Island of Hawaii offers many great romantic getaways to choose from, and what better places to retire to after a day in Volcano National Park than....
Carson's Volcano Cottage - Explore Hawaii Volcanoes National Park and stay in a fairy land forest of tree farms and flowers with private, romantic cottages and rooms. Soak in a steamy hot tub nestled in giant tree ferns. Awaken to soothing songs of native birds
A Piece Of Paradise - Choose a romantic cottage, oceanfront house or spectacular villa on 26 acres! Tide pools, warm ponds, and Volcanoes National Park.

Maui - Hotel Hana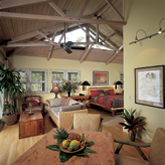 Maui has many beautiful and romantic destinations to choose from, but one of the more secluded and spectacular locations is in the small town of Hana, located off the Hana Highway, on the lush eastern coast of Maui. This is the legendary AAA Four Diamond Hotel, where tranquility is a way of life. It is quite a long, winding drive to reach Hana, but the journey is well worth your time invested in the drive, as when you arrive, you will find an intimate, romantic, and breath-taking retreat. The Hotel Hana on Maui has been a favorate retreat for couples seeking a serene, romantic, and enchanting place to escape.
Hotel Hana is located at 5031 Hana Highway, you can visit their website for more information. www.hotelhanamaui.com

Oahu - Kailua Beach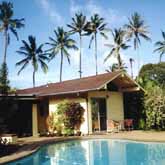 Crowded Waikiki beaches and streets getting boring? Get out of the city and retreat to a tropical paradise where no hotels are allowed. Kailua is a top destination among Oahu vacation rentals, and Kailua Town boasts a wide variety of casual shops and restaurants in a residential setting exuding charm. Visit some of the top rated beaches in the world, including Kailua Beach Park and Lanikai. There are many Bed and Breakfast accomodations located in Kailua, here are two B&B's to look into.
Kailua Beach & Breakfast - 500-block Wanaano Road
Pillows In Paradise - 336 Awakea Rd

Kauai Romantic Bed And Breakfast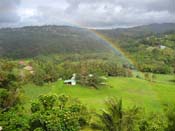 Kauai's Lawai Valley, the ambiance is rural, but you are five minutes from Old Koloa Town for shopping and ten minutes from the world famous Poipu Beach. Here you will find Marjorie's Kauai Inn perched high above the valley floor, with cliff side romantic, affordable studios. Located a 10 minute drive from Poipu Beach. Marjorie's motto: "Do More Than One Fun Thing A Day". She will guide you to insure that you experience the best of Kauai. Sit on your lanai in your chaise lounge enjoying your morning cup of coffee and listening to songs of the many colorful birds that inhabit the property. You will most likely experience a full rainbow during our early morning or afternoon sun-showers.
Majorie's Kauai Inn - 3307-D Hailima Rd

Hope you found these Hawaii romantic vacation tips useful and we hope that you enjoy your next romantic vacation in the Hawaiian Islands.
Disclaimer: We have attempted to ensure this website is as accurate as possible. However, Fantastic Romantic Vacations accepts no responsibility for any loss, injury or inconvenience sustained by anyone resulting from this information. You should verify important information regarding all travel documents, health and safety, customs, and transportation with the appropriate authorities and agents before you travel.