Best Romantic Spots To Propose In Hawaii
Ask the big question in a tropical paradise setting!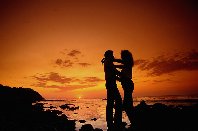 Hawaii is not only amazingly beautiful but it is also incredibly romantic. It is the perfect place to pledge your love to your someone special by "popping the question" or getting married or renewing your wedding vows. Below are some suggestions if you would like to get engaged in a romantic tropical setting.

Sunrise Proposal
Instead of proposing over dinner or late at night after a romantic evening, why not ask during a beautiful sunset perched on the top of a volcano?
Haleakala National Park
in
Maui
is the place for you then. You will need to leave around 4am in the morning in order to catch the sunrise at the top of the volcano, but what better way to spend one of the most romantic moments of your life.
Suggestions For A Romantic Proposal In Hawaii
Your options are limitless, so if you are going to be vacationing in the Hawaiian Islands with your loved one, this is the perfect place to "pop the question" in a tropical paradise setting. Some suggestions on having a unique and romantic proposal in Hawaii are:
Pick one of the many beaches in the Hawaiian Islands to propose at sunset. Good options are Sugar Beach in Maui, Waimea Bay on Oahu, and the Napali Coast on the island of Kauai.
Arrange with a luau ahead of time, then select your loved one to go and be involved with one of the luau's activities. Then you can arrive onstage to propose in front of everyone attending the luau.
The Oceanarium Restaurant at the Pacific Beach Hotel in Waikiki has a 3 story aquarium filled with sea creatures. There is a diver who goes into the aquarium several times a day to feed the fish. Be sure to request a tank side table and have the diver take a sign into the aquarium with your proposal written on it. The diver will come to where you table is and make for an unforgettable moment, and unique too!
Take a tandem parasail and enjoy the panoramic views together while you propose in mid-air.
Helicopter companies on all the islands have arrangements in which you can have them write your proposal on a secluded beach somewhere on the island, and then have you and your loved one take a helicopter ride and fly over where your proposal is written in the sand.



---
Other Ideas
Big Island of Hawaii - Embark on your lifelong journey with your partner aboard a traditional double-hulled sailing canoe, the Hahalua Lele. As the sun goes down, ask her to marry you while gazing at the whale's eye view of the rugged Kohala Coast on the Big Island of Hawaii. With the enormous Hawaiian Mountains as your backdrop, this is a moment neither one of you will soon forget. Look into the proposal package at The Fairmont Hawaii.

Tantalus - One of the more dramatic places to propose in all of the Hawaiian Islands is Tantalus. Perched at the top of a ten mile road that winds through tropical forest and lush mountainside, you can look down at Honolulu and Diamond Head in the distance as you propose.

Got engaged in Hawaii, Congratulations!! Hope these Romantic Hawaiian Proposal ideas helped.




Disclaimer: We have attempted to ensure this website is as accurate as possible. However, Fantastic Romantic Vacations accepts no responsibility for any loss, injury or inconvenience sustained by anyone resulting from this information. You should verify important information regarding all travel documents, health and safety, customs, and transportation with the appropriate authorities and agents before you travel.