Romantic Honeymoon In Paris
Romantic Honeymoon Packages And Deals From Paris Hotels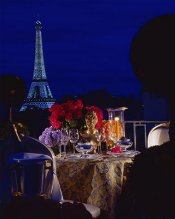 One of the top places to visit for your honeymoon is Paris, a city that is full of romance and memorable sights. It is almost guaranteed that you will remember your honeymoon in Paris for the rest of your life. For more information about romantic things to do while in Paris, visit our Romantic Paris Vacation Page where we detail some of the highlights of the city. This section focuses on how to have a memorable and romantic Paris honeymoon, with ideas and tips on where to get a great hotel honeymoon package, and where to stay in Paris. We'll outline activities to do on your honeymoon, including a few of the most romantic places to kiss within Paris.

Romantic Honeymoon Packages & Accommodations In Paris
Whether you are on your honeymoon, eloping to Paris, or just looking for a romantic getaway for two, it is hard to narrow down all the possibilities of places to stay in Paris. Below we'll outline some of the top choices for hotels in Paris, all of which have extensive romantic honeymoon and special occasion pacakges and deals for couples.

Victoria Palace Hotel
A perfect romantic retreat in the bustling city of Paris, you will receive a complimentary bottle of champagne upon your arrival. The Rodin & Romance package is a great option for a short break. It consists of three night's accommodation in a junior suite, breakfast, champagne, a selection of chocolates and two tickets to the Rodin Museum


Saint-James & Albany
A historical hotel that will offer honeymooners a peaceful and relaxing atmosphere while in the center of Paris. Spend hours being pampered in the Saint James spa, or take in one of the jazz evenings while sipping cocktails and enjoying a fine meal.


Hotel Langlois
Located right on the Right Bank in Paris, Hotel Langlois is a perfect romantic budget honeymoon hotel. This is one of the best cheap hotels in all of Paris, it's close to the Metro, and the 27 rooms are clean with some views.


Hotel du Petit Moulin
The hotel reminds you that Paris is like a relationship, it has many moods. If you pride yourselfs on being unconventional, this is the hotel for you. From 17th century styled architecture to a red heart shaped mirror in your bathroom, you'll find a mix of rustic, zen, and pop all rolled into one.
Looking to have a wedding in Paris? The Four Seasons Hotel Paris has a full range of romantic and custom wedding packages and deals. Choose from their Gardenia or Magnolia Wedding Packages.

---
Romantic Places To Visit In Paris
Champs Elysees
- what could be the most romantic street in the world, and is world famous for it's spectacular views. Stroll along the promenade, make sure to check out the many different and unique shops that line the road. Climb up the Arc de Triomphe and enjoy the 360 degree view.
Latin Quarter - located across from Notre Dame on the left-bank of the Seine River, this is a popular destination for honeymooners. This quarter is filled with unique restaurants, cafes, bookstores, and clubs, along with many spots to take a romantic walk or to enjoy a nice picnic. The area has a lot of character, with plentiful narrow, cobbled streets, with many different shops to browse through.
Eiffel Tower - the well known Paris landmark, and one of the more romantic spots in the city, especially at Rue Cler, with it's open-air markets and small cafes.
Western tip of the Ile-St-Louis - best to visit at night, you are surrounded by the amber nuance of the street lights and their reflection in the water, while the ancient stones of Notre Dame tell you tales of passion and the history of the city. Put down a couple of Euros for the delicious Berthillon, a neighborhood ice cream found only in this part of Paris.
The parc des Buttes-Chaumont - Unquestionably the city's most romantic park setting. The Buttes-Chaumont have all the ingredients that qualify as romantic. Cliffs, a grotto, a lake, and rushing waterfalls, and on top of the cliff, a copy of Tivoli's Temple of the Sybille. When you come down the cliff, enjoy an outdoor lunch at Pavillon Puebla.
---
Romantic Honeymoon Activities In Paris

Romantic Seine River Cruise
- There is no better city in the world to enjoy a romantic
evening
dinner cruise than in Paris. Cruising on the Seine River with the discreetly lit city as your backdrop makes for one of the most romantic evenings of your life. Take a glass bottomed boat tour through the heart of Paris, passing by numerous landmarks such as the
Eiffel Tower
,
Notre Dame Cathedral
, along with numerous monuments and century old bridges. Cruises leave from several points along the river, most noteably from right in front of the Eiffel Tower. Boats usually depart every 30 minutes, and here, you can book a
romantic dinner cruise for two
. Enjoy!
Eiffel Tower At Night - a must do for a romantic evening in Paris, with views that stretch as far as the eye can see. We recommend visiting the tower just before sunset, take the elevator up to the top and enjoy the city views as night falls on Paris. If you stay long enough, you will see the giant floodlights that illuminate the tower at night.
Montmarte - the views of Paris will entice romance and you make your way to the door of the famous Sacre-Coeur Basilica.
---
Best Places To Kiss In Paris

Angelina's Tea House
- After your visit to the Louvre, head to rue Rivoli and the tea house attached to the Hotel Meurice for a chocolate lover's paradise. Split the Mont Blanc; wash it down with the thick, rich chocolate chaud; and maybe leave just a drop on your lips.
Pont des Arts - The oldest pedestrian bridge in town and the ultimate location for your sunset inspired embrace. Boats rushing by, locals swing dancing, and the Louvre and French Academy illuminated on either end. You'll hope to never leave.
Eiffel Tower At Night - Now hold on, this suggestion has a twist. Head up before sunset and then watch the City of Light earn its reputation. They light the city in the order of the clockwise spiral districts. Add a kiss after each one and witness Paris coming to life.
George V Cafe - This rooftop cafe is on top of the city's fascinating modern art museum called the Pompidou Center. A stunning view of the Marais and entire skyline awaits. Steal that kiss while counting Notre Dame's gargoyles over a lemon tart.
Medeci Fountain - In a shaded corner of the Luxembourg Garden, you'll find the perfect place to snuggle among the ivy, Greek statues, and reflecting ponds. Many a proposal happens here and it's easy to see why!
Have a Memorable And Romantic Paris Honeymoon Getaway!
Disclaimer: We have attempted to ensure this website is as accurate as possible. However, Fantastic Romantic Vacations accepts no responsibility for any loss, injury or inconvenience sustained by anyone resulting from this information. You should verify important information regarding all travel documents, health and safety, customs, and transportation with the appropriate authorities and agents before you travel.