Escape To A Romantic Barbados Getaway
Tips for a romantic vacation in Barbados, including Honeymoon Packages, Resorts, Attractions, and Flights

Enjoy a warm, hassle-free, and romantic getaway while visiting Barbados in the Caribbean. World class resorts, hotels, and restaurants await you, all with top notch amenities and services to make your stay memorable and very relaxing. Barbados is and island naturally charming and sophisticated, alive with possibilities, as boundless as the turquoise sea, endless as the sandy shore. Wake up to the rhythm of the tropics and paradise to explore. Barbados is a relatively flat island with an abundant supply of large gradually sloping beaches occupying the land. On the flatter South West and West coasts, you may walk for miles along unbroken white sand beaches, sometimes stopping at a cluster of coral rocks jutting out to sea. You can discover this beautiful island by joining walking tours, renting a bicycle, by submarine, helicopter, or by going horseback riding, driving, or sailing on a catamaran or yacht.
Travelling To Barbados
International travel to Barbados is served by British West Indian Airlines (BWIA), British Airways (BA), American Airlines (AA) Air Canada (AC), and Air Jamaica (AJ). The International airport: Barbados (BGI) (Grantley Adams), is roughly 8 miles east of the capital of Bridgetown, in the parish of Christ Church. Airport porters charge $1 Bds per bag for transporting luggage to the street outside of the customs terminal. Facilities in the airport include a bank, bar, duty free shops and restaurant. If travelling to Barbados by sea, Barbados, has an international deep water harbour at Bridgetown, and is a port of call for a number of British, European and American cruise lines.
Approximate flight times to Barbados are:
Toronto is 4 hours
Miami is 3 hours 30 minutes
New York is 5 hours
London is 7 hours 30 minutes
Los Angeles is 9 hours
Barbados has a good network of roads which covers the entire island. Traffic drives on the left side. There is a speed limit of 60kmph (37mph per hour), except where otherwise indicated. The road journey from Bridgetown to Speightstown takes about 30 minutes and to Holetown or Oistins about 20 minutes. Buses offer frequent, comprehensive coverage of the island, flat rate of approx. Bds$1.50 for all journeys. Although cheap, buses are crowded during the rush hours. All bus routes end at Speightstown. There are many licensed "Mini Vans" that run around the island picking up tourist and locals. You will recognise them by their "ZR" license plate. They have few fixed schedules but there are many of them and service is frequent. The rate is Bds$1.50 and is not recommended for the nervous passenger as ZR stop frequently, often abruptly, and move quickly to pick up the maximum paying passengers in the shortest time. Taxis do not have meters but fares are regulated by the Government, and listings are available from the Tourist Office. Rentals cars are for hire, either for the day, week, or even an hour. Most hotels and resorts are located on the West Coast, which is about a 45 minute drive from the airport.
Barbados Weather
Barbados weather is mostly sunny and fair with warm days, cool winds and cozy nights. The average temperature in Barbados is 75 - 85F, the northeast tradewinds blow steadily so that although it is bright and sunny, it is not unbearably hot. It rains most in summer and a good rainfall is refreshing and much needed. Rain is usually followed quickly by sunny skies and within minutes everything will be dry. The best time to travel to Barbados is from March until June, as the hurricane season runs from August through November.
Attractions in Barbados
Bajan Roots and Rhythms Show
- held at The Plantation Theatre every Wednesday and Friday evening. It's a dinner and cabaret-style stage show offering visitors and locals alike a genuine representation of Barbadian culture and its influences. From complimentary transport to and from your hotel to the authentic Bajan buffet, excellent entertainment and dancing with local icon John King, it all adds up to one of the best nights out in Barbados.
Andromeda Gardens - The Andromeda Botanical Gardens, found in the parish of St.Joseph, is a six-acre garden containing several varieties of orchids, palms, ferns, heliconia, hibiscus, bougainvillea, begonias and cacti. Enchanting pools and waterfalls complement the beautiful and exotic trees and flowers.
St. Lawrence Gap - A 1.3 km stretch of road is famous for it's fine restaurants, diverse accommodation, lively discos and good shopping. 'The Gap' is a place where various cultures meet and merge and it is an experience that should not be missed while visiting Barbados.
Atlantis Submarine Expedition - Experience an adventure of a lifetime on board the Atlantis Submarine. Explore beautiful coral reefs and a shipwreck, or plunge into the beautiful aquamarine water with a hand-held power scooter, where you'll enjoy a fun and exciting snorkel adventure.
Harrison's Cave - One of the island's premier and most popular attractions, Harrison's Cave is a unique phenomenon of nature. After the tram ride down into the cave, you'll find stalactites hanging from the roof of the cave, and stalagmites that emerge from the ground, with streams of crystal-clear running water that drop from breathtaking waterfalls to form deep emerald pools.
Dinner Cruises - Take a romantic trip on a tall-ship from Tall Ship Cruises or charter a catamaran for a private evening for two. You can view all Barbados yachts and catamarans available for charters here.
Top Barbados Beaches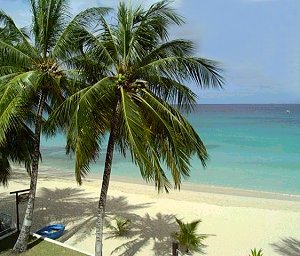 Along the coastline of Barbados, you will find some of the most romantic beaches, coves, and bays to enjoy a quiet secluded day with that special someone. There are a lot of picture perfect locations to choose from, here are a few of the highlights that we like.
Bottom Bay Beach - located on the South Coast, Bottom Bay is semi-enclosed by high coral cliffs and provides an unforgettable panoramic view of Barbados' south shore. While the waves of Bottom Bay are a bit rough for water sports and swimming the pristine white sand is idyllic for sunbathing, picnics and looking for unique seashells. Be sure to bring your camera since Bottom Bay offers some of Barbados' best photo opportunities with its beautiful tropical landscape. There are no shops or vendors at Bottom Bay allowing guests to enjoy a calm and relaxing day at the beach
Brighton Beach - One of Barbados' calmest beaches, Brighton Beach is a favorite spot of local's on hot summer days. Brighton Beach features a long stretch of beach with only minor breaks of rock or reef. With gentle waves and its convenient location near Bridgetown, Brighton Beach is a tropical getaway full of warm breezes, soft sand, and unforgettable views.
Bathsheba - Bathsheba is one of Barbados' amazing white sand beaches with a dramatic coastline of rock formations. These incredible rock formations are actually pieces of an ancient coral reef that have broken off. Many locals and visitors come to Bathsheba to enjoy its shallow pools. The pools are carved out of the inshore coral reef and are only a few feet away from the sandy shore. Being only a few feet deep these natural whirlpools provide the perfect location to sip on your favorite tropical drinks and cool off on a warm summer day. While enjoying the Bathsheba pools be sure to keep in mind that the area does have strong rip tides and undertows. Only experienced swimmers should enter these waters.
Paradise Beach - Paradise Beach is a relatively quiet beach located on the west coast of Barbados. Around the corner from Paradise beach you will find Freshwater Bay and a small fishing village. It is a wonderful place for swimming or snorkling , as the shallow rock formations are diverse and very interesting. With the Cunard Paradise Hotel that used to be open on this beach now closed, the beach is now a lot less busy as a result of this.
Mullins Beach - Quiet, gentle waters, and white sanded beach, perfect place to rent a "raft for 2" to go exploring, or take a swim. This is the place to relax in a lounge chair under the umbrellas and shade of the Casuarina or palm trees, take a dip in the safely roped off areas, or venture out further on a jetski. After a day in the sun, drop by later for a romantic sunset dinner or nightcap.
Romantic Hotels and Resorts

Barbados offers many world class hotels and resorts that cater to couples looking for a romantic getaway or honeymoon in the Caribbean. Some top picks for romantic hotel and resort getaways would be:
The Crane Resort - Nestled on a pink sand crescent beach, protected by a natural coral reef, sits an oasis of luxury - The Crane Resort. Boasting half a mile of ocean frontage, and panoramic views of the blue Atlantic that fade into eternity, this historic Barbados resort possesses an enchanting flavor. The views, dining, sunsets, and atmosphere are incredibly romantic.
South Beach Resort - Located directly opposite the white sands and tranquil seas of Rockley Beach in the heart of the South Coast, the property offers the perfect location for those seeking to enjoy the best of Barbados. Honeymooners are offered a romantic penthouse suite, with a bedroom jacuzzi, walk-in dressing room, 2 balconies with fabulous ocean views, and extra spacious living and dining areas. Extras include spa treatments, a catamaran cruise, champagne and cocktails poolside.
Sandy Beach Resort - located in close proximity to a wide variety of restaurants, sports bars, nightclubs and entertainment, and is within walking distance of the world-renowned St. Lawrence Gap, the centre of dining and entertainment in Barbados. The resort is an ocean-front property nestled in a lush tropical setting on what is maybe the best beach in Barbados. A fully-equipped heath spa, fine dining, shopping, recreation and luxury amenities await you.
For more affordable romantic Barbados vacation options, Barbados Vacation Rentals has a nice variety of villas, cottages, apartments, and holiday homes to choose from. For a good Barbados Bed & Breakfast, why not stay at Sea-U! Guest House located in Tent Bay, Bathsheba. Stunning ocean views, surrounded by magnificent scenery and miles of unspoiled beaches. this is an affordable Barbados getaway with spacious new studio apartments to enjoy.

Romantic Restaurants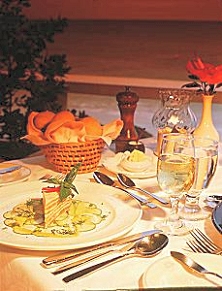 Watch the sun sink slowly into the turquoise Caribbean Sea while enjoying a sumptuous dinner at any of the excellent restaurants in Barbados. There is an abundance of fine restaurants on the island that offer local cuisine, seafood and continental cuisine. The wide range of dining options available in Barbados ensures that there is something to suit every taste and budget. By day informal attire is acceptable in most Barbados restaurants, but at night a more formal dress code is enforced. It is also recommended that dinner reservations be made in advance, especially during the winter
Cobblers Cove Terrace Restaurant - the restaurant is situated at the edge of the beach and overlooks the Caribbean Sea, perfect for a romantic dinner for two. Enjoy Caribbean cooked fish, fresh scallops, lamb, beef, and "the catch of the day". (422-2291)
L'Azure - Situated at The Crane Resort, L'Azure offers seafood to mouth-watering desserts. The atmosphere speaks of elegance and beauty as patrons sit inside or on the balcony where they can view spectacular Crane Beach in all its splendor while they dine. There is a wonderful Sunday brunch with live Caribbean gospel music in the morning and a traditional Barbadian Sunday buffet lunch. (423-6220)
The Cliff - Possibly one of the best restaurants in Barbados, The Cliff is located on the western coast of the island. A popular location for wedding and special occasions, the restaurant offers an open-air, candlelit dining experience with gorgeous views of the Caribbean at sunset.
Hope you found these Barbados romantic vacation tips useful and we hope that you enjoy your next Barbados vacation in the Caribbean.
Disclaimer: We have attempted to ensure this website is as accurate as possible. However, Fantastic Romantic Vacations accepts no responsibility for any loss, injury or inconvenience sustained by anyone resulting from this information. You should verify important information regarding all travel documents, health and safety, customs, and transportation with the appropriate authorities and agents before you travel.