Escape To A Romantic Bahamas Getaway
Tips for a romantic vacation in Bahamas, including Honeymoon Packages, Resorts, Attractions, and Flights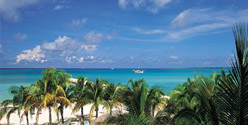 The Bahamas are well established as one of the world's top tourist destinations, filled with beautiful white sand beaches, evocative panoramas, and countless activities such as snorkling, fishing, and diving. There are over 700 islands in total, with about 40 inhabited. Unlike many of the other Caribbean island offerings, the Bahamas has a wide variety of accommodations, everything ranging from exclusive higher end resorts that include all the amenities, or rustic lodges and bed & breakfast location, catering to all travellers tastes and budgets. The islands' most popular destination is New Providence, which features the capital city of Nassau. With resort areas in Cable Beach and Paradise Island, the Bahamas offers glamorous accomodations, fantastic nightlife, and fine dining and of course, great beaches. It's impossible to see everything The Bahamas and the Turks and Caicos have to offer in one trip, but below we suggest a few highlights from the many islands.
Travelling To The Bahamas
The Bahamas are well connected to the international world, with many daily flights to and from numerous North American cities and several flights per week from Europe. Overall, there are 57 airports in the Bahamas, including three International airports (Nassau/Paradise Island, Grand Bahama Island, and The Exumas). 24 of these airports are official ports of entry to The Islands Of The Bahamas. Direct flights servicing the Bahamas from New York, Toronto, Miami, or Fort Lauderdale are American Airlines, Air Canada, Continental Airlines, Delta, and US Airways. From Europe, British Airways, American Airlines, Continental, and Delta all fly into Nassau.
If not flying into the Bahamas, it is easily accessible by sea, with many cruise ships docking at Nassau and Freeport/Lucaya every week. Offering tours through the Bahamas and the Caribbean lasting between 3 days to several weeks, a cruise is a good opportunity to see the Bahamas, and other areas of the Caribbean as well. You can also reach the Bahamas by sea ferry from Fort Lauderdale. The MSV Discovery Sun - www.discoverycruiseline.com - a 4 deck passenger ship, sails daily to Freeport. This five hour trip will cost around $140US, and it includes all the amenities that a traditional cruise offers.
Approximate flight times to Bahamas are:
Miami is 35-45 minutes
New York is 2.5 hours
Toronto is 3 hours
London is 10 hours

Getting around the many islands within the Bahamas is easiest by boat or ferry. Bahamian mailboats carry passengers to and from the various islands, with tickets priced from $25 - $60, depending on the length of journey. The mailboat service official headquarters can be found at the Dockmaster's Office - (393-1064); under the Paradise Island Bridge on Potter's Cay in New Providence. Most mailboats sail from Potter's Cay, but a few of the 29 in-service mailboats depart from Prince George Wharf in downtown Nassau. Beware, some longer trips are usually delayed due to inclement weather or high seas, and some passages are rough anyways, with crosscurrents tossing the boats up and down. Make sure you have your sea legs if you plan a longer trip. If mailboats aren't your cup of tea, privately operated ferry services are fast and luxurious. The Bahamas Fast Ferry - (323-2166), which is $100 round trip, operates out of Potter's Cay, connects Nassau to Harbour Island, then to Governor's Harbour in Central Eleuthera. It makes the trip in under two hours, is much faster than a mailboat, and includes and observation deck and food services.
When To Go?

Bahamas weather is consistant throughout the year, with the southern Atlantic high pressure system and constant trade winds helping the cause. The winter months (December to April) is the dry season, with average day time temperatures hitting the mid-70's(F), with it becoming a few degrees higher in the summer, which is traditionally the rainy season. During the day, the hottest hours will find a steady cool breeze to help with the heat, and as night falls, the temperature call be a bit on the cool side. Late summer and fall is the hurricane season, delivering the occasional meancing storm and less destructive tropical weather patterns to the islands.
Winter travel is the most popular draw to the Bahamas, with December to April prices at least 20% higher than they are during the rainy summer months. If you are looking for good deals to the Bahamas, the best time to travel is from June to September. Just a reminder, February and March find many college and university students heading to the islands for Spring Break, many of the beaches and hotels will be crowded during this time.
Grace Bay

Located in the Providenciales, a flat island some twenty miles long and only a few miles across, this is really the only sightseeing worth venturing here for. The spectacular turquoise sea along six miles of magnificent Grace Bay beach in the Providenciales offers some of the best sailing and watersports in the Turks and Caicos. It's a spectacular romantic walk beside the sea, with occasional shade found beneath the casuarina trees. Even though there is usually a huge tourist crowd outside the many hotels that line the beach, you can always find a secluded spot to have a picnic or a quiet day.
Mount Alvernia Hermitage

Located on the top of 206 foot Mount Alvernia on Cat Island, the Hermitage offers spectacular panoramic views of the Atlantic Ocean from the highest point in the Bahamas. This is the highlight of any visit to New Bright, and the laborious climb to the top is best to be done at either sunrise or sunset. Make sure to bring your running shoes, the trek starts with a dirt trail just behind the Government Administrative Complex, then turns into a hand carved rock staircase, which includes statuettes. Don't worry, the trip to the top is rewarded with a breathtaking view of the Atlantic Ocean, and to the southwest, Exuma Sound. The small sized hermitage comprises of only three rooms, including a cloister, chapel, and a bell-tower. Pack a lunch before heading to the top, and spend the late morning or evening enjoying the views.
Lucaya National Park

Less than thirty miles east of Freeport is Lucaya National Park, a great escape from Freeport/Lucaya's tourist gridlock. This 40 acre park on Grand Bahama offers a maze of creeks which are tailor-made for kayaking, and there are guided tours available by Kayak Nature Tours. Tickets for the park are $3 at either the Rand Nature Center in Freeport, or Smitty's One Stop Gas in Beven's Town. The park is open daily from 9am to 4pm. Explore numerous 1 mile long nature trails, one of which being bring you to Ben's Cave and the Burial Mound Cave, part of a 6 mile long underwater cave system. On the south side of the highway across from the parking lot, you'll find a trail that leads to Gold Rock Beach. During high tide, it's a powdery white sandy beach lined with casuarina trees, but when the tide heads out to sea, it's a sweeping landscape of beautiful ripples left in the sand as the waters retreat. This is an ideal setting for a romantic picnic or a long walk along the beach.
Eleuthera's Romantic Beaches

The island of Eleuthera, about 80 miles east of Paradise Island and Nassau, you will find that outside of only a handful or resorts and organized tourist facilities, many secluded beaches that are fit for a romantic day getaway. While the Bahamas are full of beaches, Eleuthera offers some of the very finest and most unspoilt beachs. Below we list some of Eleuthera's finest sandy beaches that line it's long coastline, most of which you will find all to yourself on any given day.
Twin Coves - on the Atlantic side of the island, a secluded double scallop of white sand with good swimming and snorkelling around a small cay about 30 feet offshore. To get there, head north from Governor's Habour, take the paved road on your right just before you pass the Worker's Hotel. Follow it through one intersection, then take a right at the fork in the road, then right again on the road running along the beach. Just past a private home with large landscaped grounds, there is a short trail on the left that leads to the beach, park your car here and enjoy the day.
Club Med Beach - Probably the most beautiful beach on the entire island, it boasts powdery pink sand flanked by a tall forest. Located on the Atlantic side of Governor's Harbour. The Club Med located here closed a few years back, and now offers up a virtually empty beach with gentle surf.
Lighthouse Beach - Getting here is half the adventure. Stay on the main highway until you come to a sharp right-angle turn leading to Bannerman Town. Do not make the turn, instead take the dirt road straight ahead. It is 3 miles of rough rocky road, and is passable by car, although a 4 wheel drive is best. Stay straight on this road and allow yourself 30 minutes to drive this. Your reward is 6 miles of pristine pink beach and turquoise surf with dark shadows of coral reefs. On a clear day you can see Cat Island and San Salvador on the horizon, and on the south end of the beach you'll find a picturesque modern lighthouse. You can park your car here and head over the dunes and onto the secluded and private beach.
Gaulding's Cay Beach - A beautiful shallow curve of tree-backed beach on the Bight side facing Gaulding's Cay. You can wade out 50 yards offshore on a lump of land to explore. Two miles north of Cove Resort, take the dirt road on the Bight/west side of the highway across from a yellow and white building, then turn left again at the fence strung with buoys.
James Cistern Beach - A narrow rocky beach running along the Queen's Highway through the town of James Cistern, it is ten miles north of Governor's Habour. Although this is not a swimming beach, it is one of the best place to take a romantic stroll and collect seasheels.
Romantic Bahamas Vacation Hotels and Resorts

The Bahamas offers many world class hotels and resorts that cater to couples looking for a romantic getaway or honeymoon in the Caribbean. Some top picks for romantic hotel and resort getaways would be:
Four Seasons Resort Great Exuma at Emerald Bay - Surrounded by Exuma's crystal-clear waters, you can play "castaway for a day" thanks to the resort's honeymoon package. You'll be transported to a secluded beach with a beach umbrella, lounge chairs, picnic lunch and a cellphone to call for your return.
Pink Sands Hotel on Harbour Island - One and two bedroom luxury cottages, totalling 29 rooms, lie amid tropical gardens overlooking the 3 mile stretch of pink sand beach, considered one of the best beaches in the Caribbean. The cottages are situated to ensure privacy for all guests and are the perfect choice for those desiring a sophisticated but relaxed beach holiday.
Romantic Bahamas Restaurants

Tropical Caribbean vacations in the Bahamas are not complete without sampling the unforgettable Bahamian cuisine that can be found in the numerous local establishments and elegant resort restaurants. Each island and resort offers its own unique flavors and dining experiences for couples looking for romantic evening.
Androsia Steak & Seafood - Androsia Steak & Seafood is an appealing fine dining destination that offers guests both a quiet and relaxed romantic evening. Try their great seafood or steak dishes, located at Cable Beach. (327-6430)
The Landing - Located on Harbour Island, have breakfast or dinner overlooking the the harbour. (333-2707)
The Graycliff - Located in Nassau, the restaurant is located in a mansion that dates a few hundred years. Each room retains it's original title from the past, have a cocktail in the parlor, then head to the library or gallery to enjoy your entre. (302-9150)
Hope you found these Bahamas romantic vacation tips useful and we hope that you enjoy your next Bahamas getaway in the Caribbean.
Disclaimer: We have attempted to ensure this website is as accurate as possible. However, Fantastic Romantic Vacations accepts no responsibility for any loss, injury or inconvenience sustained by anyone resulting from this information. You should verify important information regarding all travel documents, health and safety, customs, and transportation with the appropriate authorities and agents before you travel.