Finding Your Caribbean Cruise
Information On Shore Excursions, Caribbean Cruise Tips
Sailing Tour Packages, and More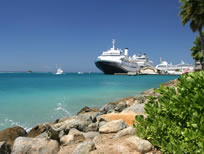 An easy and affordable way to see the Caribbean is by taking a cruise. It is a good way of not having to plan too much, as all of the tour operators have packages and deals for all the port stops in the Caribbean. Royal Caribbean Cruises, Norwegian Cruise Lines, Carnival Cruises, and Princess Cruises are the big Caribbean cruise lines that sail within the region. It is important to pick a cruise that suits your needs. The length of the cruise, Ports of Call, and shore excursions should all factor in your decision. We'll take a look at some Caribbean cruise tips to help with any decision.


White sand beaches, crystal clear waters, warm sun, water activities, food, and shopping are just a few things that the Caribbean offers any romantic vacation getaway. A tropical paradise with fabulous culture and interesting people make taking a cruise a memorable experience. Southern, Eastern, and Western Caribbean cruises and the three types of region cruises that you should be aware of.
Many of the major Caribbean cruise lines depart from Miami, Florida. Many couples plan to spend a few days in Miami before boarding their cruise. Port Canaveral, Port Everglades (Fort Lauderdale), and Tampa are three other locations that Caribbean cruise operators depart from. The departure city all depends on what sort of cruise you want to take, and what city you wish to arrive in. There are also Caribbean cruises that leave from New Orleans, Galveston, TX, and Puerto Rico.
Length Of Cruises
Whether it's your first cruise or your fifth, the length of time that you are on the water factors greatly into your experience. Many first-timers opt for a shorter cruise (3-5 days), with a possible visit to Key West and a Port of Call in the Bahamas. This is a good sampler cruise to see if you enjoy the overall experience, without dropping a huge amount of money to do so. There are many 7-11 cruise options that tourists can choose from, many visiting ports in 1-2 different Caribbean regions, these are referred to as the "Caribbean Circle".
Caribbean Cruise Price & What's Included?

What's included with your cruise package price? Well, usually the actual cruise itself, along with all your onboard meals and entertainment. Meals range from fine dining to dinner buffets, with movies, nightly stage shows, and much more supplying your entertainment. The airfare to the departure port), port taxes, tips, shore excursions, and alcoholic drinks are not included with your cruise price. Check with your cruise operator for all pricing details. Tipping usually works out to about $10US a day on most cruises, but check your cruise documents that will outline the guidelines on tipping. A good website that takes over 100 competing cruise travel agencies and makes it work for you is
www.cruisecompete.com
. It's a free service in which you create your own account, fill out your cruise details, request quotes from over 100 agencies, then book which trip suits your budget the best.
Caribbean Shore Excursions

When you reach the various ports of call on your cruise, it's totally your decision whether to stay on the boat and relax, or take the time out to discover and see the sights of the port that you are docked in. Caribbean Cruise shore excursions range from one to eight hours, depending on the activity and how long the cruise is docked at that particular port. Some of the various port excursions are:
Submarine rides / Off Road Adventures / City Tours / Jungle Tours / Parasailing / Wildlife Safaris / Snorkeling / Diving / Sailing / Cruising / Kayaking / Rafting / Windsurfing / Catamaran / Glass bottom boats / Golf / Deep Sea Fishing / Cycling / Educational and historic walks / Dining / Cultural shows

Southern Caribbean Ports of Call
Antigua - disembarking at Deep Water Harbor Terminal find the capital St. John's a quaint city with cobblestone streets, weathered houses, and a colorful open-air market.

Aruba - duty free shops, casinos, and a shoppers paradise. A short taxi ride will get you to two of the islands best beaches, Palm Beach and Eagle Beach.

Bonaire - great snorkling and diving at Playa Slagbaai. The 19th century Fort Oranje, which houses the Harbor Office, is one of the best sights, as is the adjacent stone lighthouse.

Curacao - Interesting sights within walking distance are Fort Amsterdam, now the Governor's Palace, and the Floating Market. Christoffel National Park has rare orchids, cactus, and wild goats, deer, and numerous species of birds.
Guadeloupe - rent a scooter for the best way of exploring. The Creole architecture is charming, but it's the Parc National with its dense rainforest and the highest waterfalls in the eastern Caribbean, and the smoldering La Soufriere that is the main attraction
Martinique - excursions to The Pompeii of Martinique by the volcano Mont Pelee. South of Fort-de-France the beaches are white sand, Pointe du Bout beaches near the resorts are your best bets
St. Lucia - taxi is the best way to travel for your excursion, Mount Soufriere is worth the visit, known as the famous "drive in" volcano. Rainforests and waterfalls, many call St. Lucia the most romantic of all the Caribbean Islands.
Western Caribbean Ports of Call

Bahamas
- Paradise Island and lots of beaches and shopping nearby.
Cozumel - Nearby ancient Mayan ruins are the main draw to cruise passengers. Known for diving and snorkeling excursions. Located near Playa del Carmen is the Ecological Theme Park, Xcaret. It includes Mayan ruins, lush grounds, a botanical garden, and an underwater river ride through a series of caves.
Grand Cayman - Grand Cayman is the jewel of any western Caribbean itinerary. A snorkeling trip to Stingray City, Cayman Turtle Farm is the only green sea turtle farm in the world, or bring your address book with you and send home postcards from Hell. The miniscule Hell Post Office is located at the site of a "dead" coral reef.
Jamaica - For worry-free touring, ship's excursions are highly recommended. The most popular is to Dunn's River Falls where you can climb the 600 foot waterfall with a guide. A half-day catamaran sail and snorkel, rafting on the Martha Brae River, horseback riding, or a beach picnic are other shore excursions offered.
Eastern Caribbean Ports of Call
Barbados
- Some of the highlights are Harrison's Cave (a fascinating underground tour), the Flower Forest (an old sugar plantation), Francia Plantation, and Welchman Hall Gully. Payne's Bay and Mullins Beach are good snorkeling spots.
Key West - Unique and charming shops, galleries, and restaurants line this southernmost American city. Sunset watching at Mallory Dock is compelling, unfortunately, most ships leave port before you can experience this.
St. Croix - less crowded as more cruise ships stop docking here. A tour through Whim Great House is a walk back in time. Close to Frederiksted, Sandy Point's waters are calm and perfect for swimming.
St. Kitts - A major stop on any tour of St. Kitts is Brimstone Hill Fortress, the centerpiece of a national park. Only three miles from Basseterre is Conaree Beach and some of the island's best swimming. Frigate Bay is known for talcum-powder white sand.
St. Martin/St. Maarten - one part Dutch, one part French. Casinos, limited shopping, and bars. Sightseeing tours usually include a stop to shop and wander around Marigot on the French side.
St.John - enjoy the hiking trails of the Virgin Islands National Park. Trunk Bay is the most popular destination for beach-goers. It's likely to be crowded, but it's gorgeous and the underwater trail near the shore is perfect for snorkeling.
St. Thomas - take a taxi or guided tour and venture up Mountain Top, the highest spot on the island. Cool off with a delicious banana daiquiri abd marvel at the breathtaking view. Paradise Point Tramway is a nice way to enjoy a dramatic panorama view. Magens Bay is one of the world's top beaches. Other popular beach destinations are Coki Beach, Brewer's Beach, and Morningstar
San Juan - Highlights of a walking tour are the City Walls, San Juan Gate, La Forteleza and Mansion Ejecutiva, "El Morro" fortress, La Casa Blanca, El Convento, Catedral de San Juan, and Fort San Cristobal. El Yunque rain forest and the Bacardi Rum Factory are popular shore excursions.
Hope you found these Caribbean Cruise romantic vacation tips useful and we hope that you enjoy your next cruise getaway in the Caribbean.
Disclaimer: We have attempted to ensure this website is as accurate as possible. However, Fantastic Romantic Vacations accepts no responsibility for any loss, injury or inconvenience sustained by anyone resulting from this information. You should verify important information regarding all travel documents, health and safety, customs, and transportation with the appropriate authorities and agents before you travel.