Whistler Vacation Rentals
Tips And Information For Finding Deals On Accommodations And Romance Packages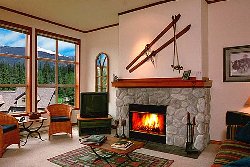 Whister, part home to the 2010 Olympic Games, is one of the top world-class ski destinations in the world. Excellent ski conditions, a vibrant ski village offering exquisite shopping and dining options, and spectacular views, make Whistler a perfect place for a romantic couples getaway. Like any world-class resort, affordable accommodations is always tricky to find. Below, we'll detail some tips and advice on how to find affordable vacation rentals and accommodations for your stay in Whistler, and even how to find cheap romantic package deals at the top resorts and spas.
For more information on romantic things to do while staying in Whistler, visit our Romantic Whistler Getaways Page.

Vacation Rentals In Whistler
You have a few options in choosing a Whistler vacation rental home, either you can rent direct from the owner, through a rental company, or via a resort. We always find the vacation home rental route is the best way to truely enjoy your stay in Whistler, not only do you usually get more ammenities than a hotel room, but you have more flexibility in terms of how many visitors can stay, and for how long. Most Whistler vacation rentals are fully equipped, well maintained, and are an
affordable alternative
to expensive hotels.
A private hot tub, full kitchen, Jacuzzi bath tub, in-suite laundry, free underground parking, air conditioning, living room with entertainment center and a year round heated pool are just some of the many options that you can find while renting in Whistler. Make sure to check with the owner or rental company to what is and what isn't included in the package price. Many rentals offer package deals, including golfing, skiing, hiking, kayaking, or spa retreats.
We usually find our accommodations at Whistler Creekside, a few minutes outside of the main village. We prefer to stay at Creekside, as it is less busy than staying near the main village, and there is gondola access to Whistler Mountain within walking distance. There are several other locations in and around Whistler that you can stay. Village North and Upper Village all offer vacation rentals that are close to the heart of Whistler, and there are even places right on the side of the ski slopes of both Whistler and Blackcomb Mountains. The small town of Pemberton, a 20 minute drive North of Whistler, offers vacation rentals too. This is a great option if you want more peace and quiet with a lower price tag, and you do not mind driving or busing into Whistler Village.
Some good sites for finding Whistler Vacation Rentals:
Whistler Accommodations - Rent a vacation rental home at Whistler-Blackcomb Ski Resort, British Columbia. Nightly, weekly, or monthly lodging options include Whistler vacation homes, chalets, condos, town homes, cabins, and bed and breakfasts.
Whistler Vacations - Book a fully equipped townhome with a private hot tub, year round pool, in a convenient Whistler Village location.
Resortac.com - Owner direct Whistler Vacation Rentals, with over 100 listings available.
Travel B.C. - Whistler Vacation Rentals directory, includes property information, contact details, amenities, photos, and links to individual Whistler Vacation Rental web sites.

---
Romance Package Deals In Whistler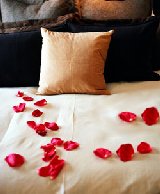 With some of the best visual backdrops in the world, Whistler is a top destination for a romantic getaway. Thankfully, Whistler hotels, vacation homes, and resorts offer up
romance package deals
for couples looking to be relaxed and pampered. There are
great deals
to be found year-round, but we find that the most affordable deals are to be found from
February to April
. After the rush of the holiday and high season of December and January, many resorts and hotels are looking to fill their rooms as the ski season enters it's mid to late stages.
Summer romance package deals are available too, we find the best times to find affordable deals are in June or September, avoiding the busy summer tourist crunch and the ski season.
Whistlerblackcomb.com offers package deals for all seasons, you can either build your own vacation package, or choose from the many options that the site has to offer. We have booked many affordable package deals through here, finding four star accommodations right in the village for less than $100 a night. Add a spa treatment or breakfast in bed onto your package deal and you've got an affordable romantic getaway for two in Whistler.
Access Whistler helps make your special moments magical, all you need is love! They will create the perfect romance package that you desire, from a relaxing milk bath in your private bath tub, to a 3-course meal prepared by your own private chef in front of a wood burning fireplace.
Other great sites to find affordable romantic vacation packages in Whistler are Tourismwhistler.com, where you can find cheap last minute deals and packages at many hotels and resorts. Platinum Whistler puts together some fantastic affordable deals, including complimentary nights at Pan Pacific Whistler Mountainside or a resort credit at Four Seasons Resort Whistler. There are good deals to be found here.
---
Tips To Saving Money In Whistler

With so many choices for accommodations, it can be quite easy to save money while staying in Whistler. We'll list some of our tips and advice on how to make your next romantic getaway in Whistler less damaging on your wallet.

Book a Whistler Vacation Home directly with the homeowner - Renting a vacation home directly with the home owner will automatically save you a lot of money over booking an expensive hotel room. Booking direct saves you money by avoiding middle agent fees. All vacation homes offer up a fully equipped kitchen, perhaps dine in instead of eating out every night. Most vacation homes offer up free parking by the owners, whereas all hotels charge a parking fee on a per day basis. Most owners also do not charge the 10% hotel tax, make sure to inquire about any additional fees before booking.

Plan your vacation around Seasonal Lift Ticket Pricing - Your Whistler lift ticket's total price all depends on the season in which your first day starts. Even if your first day falls during the cheap ski season, but the majority of the rest of your time falls in the high season, you will be charged the cheap season rate for your entire ticket package. Plan your skiing/riding start day in a cheap season date, and you could ski/ride through the most expensive seasons at a fraction of the price.

Plan to stay during Whistler Resort & Accommodation Promotions - Plan your getaway around Whistler promotions for resorts and accommodations and save even more money on package deals. Booking well in advance will save you even more money. Discover Whistler Weeks can save you up to an additional 30% on ski programs at the mountains.

Use lofts or dens as bedrooms - Did you know that lofts or dens make perfectly good bedrooms? Booking a 2 bedroom with a loft rather than a 3 bedroom vacation rental can save you hundreds of dollars off the final total.

Add an extra day to your stay - Several hotels and vacation rentals will offer you a free day if you extend your stay by one day. This is an exceptional value.

Make sure to read our Tips For Renting Vacation Homes Section to find out our 7 easy steps to follow for successful rentals of homes, townhomes, and condos. There are a vast number of options available to you, what do you need to know in advance?
---
We hope this information was helpful for you finding affordable romantic accommodations in Whistler.
Disclaimer: We have attempted to ensure this website is as accurate as possible. However, Fantastic Romantic Vacations accepts no responsibility for any loss, injury or inconvenience sustained by anyone resulting from this information. You should verify important information regarding all travel documents, health and safety, customs, and transportation with the appropriate authorities and agents before you travel.