Vancouver Island Romantic Getaways
Romantic Ideas For A Vancouver Island Getaway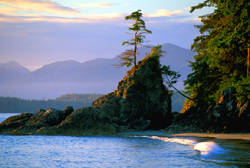 A visit to Vancouver would not be complete without hopping on the ferry and travelling over to Vancouver Island. It's just a 90 minute boat ride over to the island, which is home to the enchanting city of Victoria, the cozy town of Tofino, and everything else romantic that you could imagine. Romantic spas, quaint bed and breakfast locations, and lots of outdoor activities await you. Below, we will outline some of the highlights of Vancouver Island.

Getting To Vancouver Island
The best way to travel to Vancouver Island is by ferry boat, and there are two locations in the Vancouver area to catch a ferry.
Tsawwassen
ferry terminal which is 45 minutes south of downtown Vancouver, sails to
Departure Bay
in Victoria. The other ferry port is located in
Horseshoe Bay
in West Vancouver, and it travels to the city of
Nanaimo
on the island. The estimated sail time for both ferry terminals is 90 minutes, and if travelling by car, it will cost you approxmiately $50 CDN.
Helijet offers a unique helicopter ride to the city of Victoria on Vancouver Island. If you've never been in a helicopter before, or want to see an aerial view of the coastline of British Columbia, this is for you. They offer daily service between Vancouver and Victoria, and there are three terminals located at Vancouver International Airport, Vancouver Harbour Heliport, and Victoria Harbour Heliport. Price for a one-way ticket is $109 CDN (Web booking only) per person, a little pricey, but totally worth the experience. Travel time to and from Vancouver Island is 25 minutes.
---
Tofino

Tofino is probably the most romantic spot on Vancouver Island, and is tucked away on the western most part of the island, overlooking the Pacific Ocean. You will enter
The Pacific Rim National Park
on your way to Tofino, and there you can walk through the rainforest, stroll along the beautiful
Long Beach
, take a whale watching tour, storm watch, or go for a romantic hike. There is miles and miles of beach here, but keep in mind that is always a bit cooler here, even in the summer. Only people who can brave the cold water will go for a swim or a surf, but for any trip it's still our recommendation to try the waters at least once! The trip to Tofino takes about a 3 hour drive from downtown
Victoria
, and there are many scenic stops along the way, so bring your camera.
There are many bed and breakfast options here, along with world-class resorts, all catering to your every need. Tofino is also a perfect spot to propose, or for a honeymoon or wedding. There are numerous locations in Tofino where you will find yourself alone on a secluded beach, looking out into the spectacular waters of the Pacific Ocean, no better spot for a romantic moment. A few romantic Tofino accomodations that we recommend are:
The Wickaninnish Inn - Located just outside of downtown Tofino, it is a fantastic luxury resort that offers spas, spectacular private suites, soaker tubs, and extensive romantic getaways, honeymoon and wedding packages.
Pacific Sands Resort - Located on Cox Bay just outside of Tofino, the resort offers a relaxing atmosphere, with the choice of lodges, ocean front villas, and suites. All units are equipped with full kitchens, fireplaces, and private decks or patios facing the beach. Their romantic getaway packages are well worth looking into.
For more detailed information on how to plan a romantic Tofino honeymoon or getaway, visit our Tofino Romantic Getaways Page. We outline romantic things to do in Tofino, along with accommodations, tips and advice, and how to travel to this secluded resort community.

---
Victoria

Victoria is British Columbia's capital city, and has a very old English feel to the architecture and the streets. Located on the southern most part of Vancouver Island, it is a perfect romantic day trip from Vancouver or even from Seattle. The
Victoria Inner Harbour
has a wide variety of things to do and discover, including the
Wax Museum
,
Government Buildings
, and the
Undersea Gardens
. Take a ride on the top of a
double-decker bus
or visit one of the many surrounding parks nearby, including
Beacon Hill Park
or
Mount Tolmie Park
, the latter having excellent views of Victoria.
You can also take in one of the many free street performer shows and art displays that are located within the harbour. There are numerous restaurants and pubs that offer up great food for very reasonable prices, along with a charming atmosphere. The Oak Bay Beach Hotel & Marine Resort offers romantic dinner cruises around the harbour during the summer months, or enjoy a horse-drawn carriage ride through the harbour and James Bay. Carriage rides can be booked right in front of the Parliament Buildings in the harbour.
Butchart Gardens is graced with beauty, especially if you can visit during a warm summer night. With the daylight fading slowly, you can view a wide variety of flower gardens that are uniquely lit. Located in Brentwood Bay, about 20 miles northwest of Victoria, it is a must-see for any Vancouver Island getaway.
---
Sooke
The town of Sooke is located on the southern tip of Vancouver Island, west of
Victoria
along
Highway 1
. Many travellers come to Sooke from Victoria for a romantic weekend getaway. Accommodations range from bed and breakfasts of every style, to campgrounds and RV parks to cottages and vacation rentals to luxury hotel inns. Sooke Harbour contains a wealth of coves and bays that lend themselves to exploration by kayak or sail. A new highlight is
Race Rocks
, a recently created ecological reserve, where visitors can climb into zodiacs for a marine wildlife adventure to view a population of killer whales, stellar, and California sea lions, seals, and porpoises.
The Sooke Potholes is a great spot to find a secluded cove to take a swim. Known as a swimmers paradise, it is located in the Sooke PotHoles Regional Park. Enjoy the views, explore the trails, or take a refreshing dip on a hot summer day! In the summer, the potholes can be busy with locals, but there are always private spots to be found if you go off the beaten path. To get there, take Douglas Street out of the city. Head towards Colwood by following the signs, watch for Edward Milne High on your right. Head down Sooke River Road until you reach the park.
Heading west toward Port Renfrew, the Juan de Fuca Marine Trail follows the highway and offers 47 kilometres of rainforest coastline, along with tide pools, sandstone caves, and soft sandy beaches. Make sure to stop at the many scenic viewpoints and beach access entrances to find a romantic spot.
Sooke is considered by many the bed and breakfast capital of British Columbia, with approximately 70 such establishments in the region. One of the most romantic places to stay is the Sooke Harbour House. The ocean front inn offers uniquely designed rooms, jet soaker tubs, full spa facility, and a top notch restaurant. Honeymoon and wedding packages are also available, which include a romantic dinner for two, massage, and one night in their guest rooms.

---
Qualicum Beach

With over 20 kilometres of sandy beaches, 4 beautiful rivers, and hundreds of secluded coves to explore, Qualicum Beach is a perfect spot for a romantic afternoon. The shoreline of Oceanside from Nanoose to Deep Bay offers up tidal pools full of starfish and sand dollars, and over 250 species of birds. Take off your shoes and enjoy the warm sandy beach as you take a romantic stroll along side the ocean.

Off the water's edge, you will find Mt. Arrowsmith Biosphere Reserve, a large area with a variety of trails, rivers, streams and waterfalls to explore. Located at the top end of Cameron Lake, Cathedral Grove is a preserved section of lush old-growth forest that is unique to Vancouver Island. Plan to spend a few hours wandering the trail system and gazing up at 800 year-old giants.

Little Qualicum Falls is located at the gateway to the Alberni Valley. On hot summer days the Little Qualicum River offers a number of cool, clear pools, great for a refreshing dip.



Salt Spring Island

A ferry ride from Victoria you will find the Southern Gulf Islands, including Mayne, North and South Pender, Galiano, and Salt Spring Island. These are a small group of islands located just off the east coast of Vancouver Island. Here you will find a slower paced way of life, with many retirees taking up residence. Parks, beaches, small towns, whale watching, and unique shops are what make the Southern Gulf Islands the perfect place for a weekend getaway for two.

Salt Spring Island is one of the more popular destinations for travellers going to the Southern Gulf Islands. You can drive to the top of Mount Maxwell and enjoy the panoramic views of the southcoast, or visit the Salt Spring Market held at Centennial Park right in Ganges. Dozens of local farmers sell fresh produce and many local artists, craftspeople, and artisans display their work at the Village Market, which is open Saturdays during the months of April to October.

There are many fine quality resorts and bed and breakfast's on Salt Spring Island, whether you want a quiet weekend getaway for two or an all summer vacation for the whole family, there is something for everyone. A few places to look into for a romantic stay are Cusheon Lake Resort and The Angel Cottage.
---
Vancouver Island Romantic Restaurants
There are many romantic dining options on Vancouver Island, we have had the pleasure of enjoying many of the different restaurants from Tofino to Victoria. Below, we list some of our favourite romantic dining spots.
Rosemeade Dining Room & Lounge - Located just minutes from Victoria's Inner Harbour, the restaurant is part of The English Inn Resort, which is set on a 5 acre beautiful garden estate. The dining room overlooks the grounds, and with the warm stone fireplace and delicous food, it makes for a memorable romantic dinner. Rosemeade was voted one of Canada's best new restaurants in 2005, and after one visit you will see why. The English Inn Resort, along with the restaurant, has elopements, honeymoon, and wedding packages available. Click Here For More Information.
The Pointe Restaurant - With a 240 degree viewscape of the Pacific Ocean from your tableside, there is no question that this is a spectacular dining experience. Located at the Wickaninnish Inn in Tofino, the Pointe Restaurant offers a Pacific Northwest cuisine, with super fresh seafood dishes and an extensive wine list.

More Vancouver Island Tourism Information
Tofino Romantic Getaways Page
- Hike into the giant cedar and ancient Sitka spruce rainforests that surround Tofino, and let the silence of the forest rejuvenate your spirit. If that doesn't work, take a one-hour boat ride to Hot Spring's Cove, an all-natural thermal hot spring pool.
Tourism Vancouver Island - The official Tourism Vancouver Island website with everything you need to plan and book your vacation.
Have a great Vancouver Island romantic vacation or getaway in British Columbia.
Disclaimer: We have attempted to ensure this website is as accurate as possible. However, Fantastic Romantic Vacations accepts no responsibility for any loss, injury or inconvenience sustained by anyone resulting from this information. You should verify important information regarding all travel documents, health and safety, customs, and transportation with the appropriate authorities and agents before you travel.