Tofino Romantic Getaways
Spend a romantic honeymoon or vacation in this private resort on the Pacific Ocean.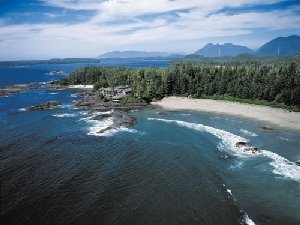 Tofino holds a special place in our hearts, it is truely one of the most spectacular places to get away from the hectic pace of the city. Located in Pacific Rim National Park, Tofino is situated on the west coast of Vancouver Island, facing out against the Pacific Ocean. A small resort town, with a local population of about 2,000 people, it can swell up to 22,000 during the peak months between June and September, when tourists from all around the world flock to its shores. The allure of Tofino is its unaltered natural landscape, even with new development projects springing up in the past number of years, its untouched national parks, unpopulated beaches, and uncut forests attract visitors year round. From sunny skies and swimming in the ocean in the summer months, to storm watching and snuggling up around a cozy fire during the winter months, Tofino has so much to offer for a romantic getaway, honeymoon, or a place to propose, with the fresh ocean air, remote location, and numerous private secluded spots.

Getting To Tofino
Even though Tofino is remote, even to most Canadians, it is still not that difficult to get to as you might think. From
Vancouver
, which boasts the second largest international airport along the entire North American west coast, it is easy to get flights here from almost anywhere in the world. Once you've arrived in Vancouver, you must make the trip to
Vancouver Island
by one of three ways,
ferry, bus, or plane
.
BC Ferries
offers an inexpensive commuter ferry to and from Vancouver Island that runs multiple times a day. Rent a car and travel to the
Horseshoe Bay
Terminal in West Vancouver, which will travel to
Nanaimo
on Vancouver Island. From here, the drive time to Tofino along
Highway 4
is about 3 hours.
Tofino Bus will take you directly to Tofino from the ferry, stopping in Nanaimo first, in which you will have to transfer buses. It provides an affordable mode of travel to Tofino, costing around $35 CDN, but it will give you less flexibility in travelling around Tofino, or taking day trips into Pacific Rim National Park. You can also hop aboard commuter ferries departing from Seattle, Washington that sail into Victoria. From here, the drive time to Tofino is about 5 hours.
Flying is the most expensive option to get to Tofino, but it will drastically cut down on the travel time to the remote town. You will arrive at the small airport on the outskirts of Tofino along Highway 4, and it's just a short trip into town. Orca Air offers numerous packages on travel to Tofino, check the website for the current schedule and rates. Flying time from Vancouver is approximately 45 minutes.
---
When To Visit

Determining the best time to visit Tofino depends on what interests you, warm sunny days along the beach during the busy peak season between June and September, or cozy nights by the fireplace awaiting the next storm during the low season of November to April. Keep in mind, with Tofino's location facing the Pacific Ocean, there is always the chance for cool, wet weather, even during the summer months. Make sure to book well in advance during the peak season, as almost all
B&B's
and resorts will be booked solid for the entire summer.
For us, Tofino is a unique place to visit during the off season, with its empty beaches that stretch on for miles, you can find your own secluded spot to spend a nice quiet day. Even though there is not a need for beach blankets or sunscreen, this time of year calls for storm watching. It is a marvel to watch the strong storm clouds roll in off the Pacific Ocean as you stand along the beach, with the 15 foot high waves crashing off the shore. Rates are drastically reduced during the off season, so for those on a budget, and who do not mind a bit of rainy weather, this is the best time to visit.

---
Romantic Activities In Tofino

There are plenty of things to do in Tofino, and with Clayoquot Sound and Pacific Rim National Park nearby, you have numerous options to choose from. Surfing, hiking, kayaking, storm watching, eco-adventures, biking, rollerblading, and much more. Other ideas for romantic activities are:

Whale Watching - One of the most popular attractions in Tofino is whale watching. During the months of March to May, whale watching tours are offered by various tour operators. You'll see enormous grey whales pass by the shores of Tofino, as they make their annual migration North.

Pacific Rim National Park - A unique park composed of three sections - Long Beach, the West Coast Trail and the Broken Group of Islands. It features sandy beaches, temperate rainforests, and important archaeological sites.

Hot Springs Cove - Located about 1 hour north of Tofino, this cove features warm hot springs and geysers. Boat tours leave from Tofino harbour, make sure to bring your swimsuit along, as they encourage you to take a dip in the near bath temperatured springs. The trip includes a 30 minute walk through a rainforest in order to reach the springs, a truely unique and relaxing experience.

Rainforest Trail - Located in Pacific Rim National Park, just off Highway 4, you can walk through dense temperate rainforests on a man-made wooden boardwalk, gazing up at 800 year old cedar trees. The trail itself is about a 2 kilometer loop, with information about the rainforest and the trees posted at various points along the way. Bring your camera along, getting a picture beside or inside one of these enormous trees makes for a memorable picture.

North & South Chesterman Beach - Located just a few miles outside of downtown Tofino, this beach stretches along for miles, with spectacular views of the incoming waves from the Pacific Ocean. Here is where many people storm watch, surf (yes, even in the cold water), beachcomb, or just simply walk for miles along virtually empty beach. Take a stroll out to the uninhabited Frank's Island for an even closer look out into the Pacific Ocean, or stop by the Wickaninnish Inn for a warm latte or a bite to eat.
---
Tofino Getaway or Honeymoon Accommodations

There are plenty of options to choose from when picking accommodations in Tofino, from honeymoon suites at one of the romantic resorts nestled along the beach, to vacation cabin and cottage rentals with full amenities. Here we've provided you with some information on how to choose the best Tofino accommodations for your romantic getaway.

myTofino.com - This site is dedicated primarily to accommodations in Tofino, including including cabins, condos, vacation rentals, resorts, bed and breakfasts, hostels and camping.
Tofino Time Accommodations - Tofino accommodation choices are offered to suit all tastes, budgets, needs and desires. From an economical campsite or motel & guesthouse bed to a 4 star hotel room, this site has it all.
Pacific Coast Retreats - From rustic to luxurious, Pacific Coast Retreats offer exquisite waterfront vacation properties on Chesterman Beach, Tofino's harbourfront and the tranquility of inlet waters.
The Wickaninnish Inn - Located just outside of downtown Tofino, it is a fantastic luxury resort that offers spas, spectacular private suites, soaker tubs, and extensive romantic getaways, honeymoon and wedding packages.
Pacific Sands Resort - Located on Cox Bay just outside of Tofino, the resort offers a relaxing atmosphere, with the choice of lodges, ocean front villas, and suites. All units are equipped with full kitchens, fireplaces, and private decks or patios facing the beach. Their romantic getaway packages are well worth looking into.
More Tofino Tourism Information
Tofino Tourism
- Premier Information Source for Tofino and Ucluelet accommodations, including fishing, surfing, National Park trail hiking, white sand beaches, whale watching, and storm watching.
Tofino Restaurant Guide - restaurant guide and directory for Tofino, British Columbia, including restaurant descriptions and reviews.
Travel BC Tofino Page - British Columbia's travel destination site focusing on Tofino and the surrounding areas, including Ucluelet and the Pacific Rim National Park.
Tourism Vancouver Island - The official Tourism Vancouver Island website with everything you need to plan and book your vacation.
Have a great honeymoon or romantic getaway in Tofino.
Disclaimer: We have attempted to ensure this website is as accurate as possible. However, Fantastic Romantic Vacations accepts no responsibility for any loss, injury or inconvenience sustained by anyone resulting from this information. You should verify important information regarding all travel documents, health and safety, customs, and transportation with the appropriate authorities and agents before you travel.