Couples Vacations In Los Angeles
Romantic Places To Visit In Los Angeles.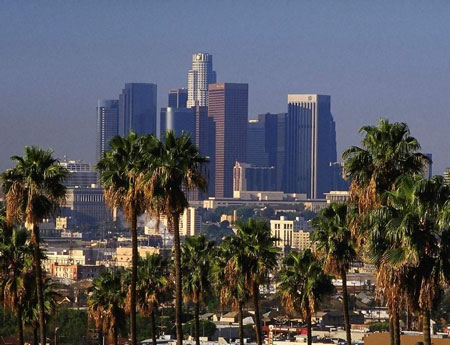 Los Angeles, a sprawling metropolis that reaches out across a desert basin, filled with palm trees, swimming pools, shopping malls, and other colorful sights. With snowcapped mountains surrounding the city, along with the Pacific Ocean nearby, Los Angeles offers many different options for a romantic vacation for two. The city of Los Angeles is very colorful, with lots to see and do, but even a drive up the coast offers a more quiet and relaxing atmosphere than the hussle and bustle of the city.
If you are planning on staying in L.A. for a few days, and want to see and explore a lot of sights and attractions, make sure to pick up a Los Angeles Go Card, which is a budget-friendly way to see all the famous Los Angeles attractions without breaking your wallet at the seams. The card includes tickets to Universal Studios, California Science Museum, Hollywood Wax Museum, bike rentals, and the Los Angeles Zoo And Botanical Gardens.
Any time of the year is a great time to visit Los Angeles. You can expect warm and sunny days year round. Typical high temperatures are 85 degrees Fahrenheit in the summer, 75 in the fall, 70 in the winter and 75 in the spring. The city averages over 320 days of sunshine per year, so you don't have to worry about having your romantic beach vacation being rained out.
Below we'll outline some romantic things to see and do within the city of Los Angeles, along with tips and advice on what to do outside of Los Angeles. Maybe a star-gazing visit to Beverly Hills or an exciting daytrip up the Pacific Coast Highway to Santa Monica. It is almost impossible to outline everything to see and do in Los Angeles and the surrounding areas, but we'll list all the romantic highlights.
Travelling To And Around Los Angeles

Los Angeles International Airport
or
L.A.X.
for short, serves flights from all major centers worldwide, with hundreds of flights daily from within North America or Europe. The airport is located 16 miles southwest of
Downtown
. Almost all flights in Los Angeles land at L.A.X., but other smaller airports in the area are located at
Burbank
,
Long Beach
,
Ontario
, and
Orange County
.
Arriving into Los Angeles can be a bit of a nerve-wracking experience, especially when faced with an unending sprawl of highways and neighborhoods that can even leave the locals a bit bewildered. Just don't panic, pick up a good map of the city at the airport, and no matter how you get into Los Angeles from the airport (Los Angeles International L.A.X.), the city can be easily navigated.
If you are on a budget and do not plan on renting a car, the best way into Downtown, Hollywood, West L.A., or Santa Monica is via the Super Shuttle minibus service which runs from the airport to any of those locations. It also goes to Long Beach and to Disneyland in Orange County. Taxis from the airport will charge at least $25 to Downtown or West L.A., and upwards to $90 if you plan on staying near Disneyland.
Don't be nervous, but the best way to get around Los Angeles is by renting a car. Whether you are driving into the city on any of the major interstate routes, or simply navigating the city on one of the many freeways, this is the quickest option of getting around the region. The network of freeways can be a bit confusing and quite often filled with traffic, but it is still the best way of covering long distances quickly. We recommend picking up a map of the city and studying the various routes, because once you are on the fast-paced freeway system, you can get lost easily if you are not quite sure as to where you are going. For shorter trips, you are better off taking the side avenues and boulevards, which give you a better way of seeing the city, along with fewer cars and better flow.
---
Getty Center

Los Angeles has some of the best museums in the United States, and one worth taking a day trip to visit is
The Getty Center
in the
Brentwood
section of Los Angeles. A huge modernist arts center that is filled with treasures of the Old World. There is a vast and impressive collection of sculpture and art, with its most prized piece being Van Gogh's
Irises
. But, the most stunning part of the Getty Center is the property itself. Grab a bottle of wine and some cheese to savour while spending time and enjoying the fantastic views on one of their many outdoor leisure spots. For more information on the Getty Center, visit
Getty.edu/Visit
.
---
Santa Monica Beach & Pier

Set along a 20 miles stretch of white sanded beaches and home to a diverse set of fine stores, restaurants, and galleries, Santa Monica is the oldest and most well known towns in the area. The small communities that line
Santa Monica Bay
will allow you to get away from the smog and heat that make Los Angeles a bit too much at times. The town is lined with palm tree bluffs, and you have excellent views of the Pacific Ocean.
Third Street Promenade
is the closest Los Angeles comes to having a vibrant street life. This is a pedestrian stretch that is simply fun to hang out at one of the many funky cafes or restaurants. There are many second-hand shops and book stores that line the promenade, or you can drop in and play a game of billiards or watch some of the lively street entertainers.
Santa Monica Pier is the real focal point of the area, with the ocean, beach, and the pier offering up a quiet coastal experience. Jutting out into the bay at the foot of Colorado Avenue, the pier features a rollercoaster and carousel. For a romantic look around the coastline of Santa Monica, the bike path, which begins at the pier, heads twenty miles south to Palos Verdes. On foot, you can spend the day wandering south along the beach to Pico Blvd., then head two blocks inland to Main Street.

---
Malibu

Everyone has heard of
Malibu
, with it's palm-lined beaches and crystal blue waters filled with movie stars and surfers. This image is not far from the truth, as you enter the small town off the
Pacific Coast Highway
, you will see a collection of surf shops and fast-food stands. Many of Hollywood's elite live inland from the highway, their secluded estates looking overlooking the beautiful coastline. Malibu is home to much of the
Santa Monica Mountains National Recreational Area
, which provides many hiking opportunities.
Malibu Creek State Park at the crest of Malibu Canyon Road is a 4000 acre park that includes a large lake, waterfalls, and nearly 20 miles of hiking trails. Grab a bottle of water and some food at Malibu Country Mart - (you may see A-list celebrities sipping their espressos here if you're lucky), and enjoy a pleasant day in the park. The chaparral covered hillsides lended themselves as the backdrop of the popular television show M.A.S.H. in the mid 1970's, and served as a backlot for 20th Century Fox Studios.
Make sure your Malibu trip includes El Matador State Beach, it's about 20 miles up the coast from Santa Monica. This is about as close as you'll get to the secluded beaches enjoyed by the movie stars. Thanks to it's northern location and very missable turn off the Pacific Coast Highway, it's rocky cove sands are a recluse's dream. Other beaches in Malibu are the famous surf beach of Surfrider Beach, and Zuma Beach, the latter being the largest of all of LA County's beaches.

---
Sunset Boulevard

Set above western
Hollywood
, intersected by La Ceinega Boulevard, the two mile long section of restaurants, towering billboards, plush hotels, and nightclubs is otherwise known as
Sunset Strip
. One of the world's most famous streets, this route links the urban streets of downtown Hollywood to the lush, green and up-scale residential avenues of Beverly Hills. This is a perfect place for avid window shoppers, take a cruise down
Rodeo Drive
and peak in at the many high scale boutiques and shops that offer up jewelry, high fashion, and beauty accessories.
For a complete overview of the shopping scene and the area in general, hop aboard the Beverly Hills Trolley. Running during the summer months from noon to 5pm, a ride fee of $10 will offer you a 50 minute glimpse into the town's highlights. The trolley departs hourly from the corner of Rodeo and Dayton Way.
In the canyons and foothills above Sunset Strip, a number of estates lie hidden away behind landscaped security gates. Benedict Canyon Drive climbs up from the Beverly Hills Hotel to many of the A-list celebrity homes. Here you can take an hour just to cruise the boulevard and wonder what mansions certain celebrities live in, or pick up a cheesy celebrity road map from any of the roadside stands and plan to drive by your favorite star's mansion.

---
Other Los Angeles Attractions / Things To Do

Anaheim - Be a kid again and visit the world's most popular original themed parks, Disneyland. Close by to Anaheim is Buena Park where Knotts Berry Farm, Mideval Times, and Pirates Dinner Theater are located. Laguna Beach, Newport Beach, and Huntington Beach are the three major beaches worth spending an afternoon soaking up the sun at.

Hollywood Sign - Perched on the top of Mount Lee, this symbol of Hollywood glamour measures 450 feet in length with gigantic white letters, each standing 45 feet high, spelling out the name of the city. For the best view of the Hollywood sign, head up Beechwood Drive (off Franklin, to the east of 101) and keep going all the way through Hollywood. You'll arrive at a gate at the end of the road, there are stables further on. There is a small parking lot on the right side. Park here and walk up the hill on Hollyridge Trail to get as close to the sign as possible, and a good view of the letters.

Little Tokyo - Located Southeast from the Civic Center in Downtown Los Angeles, Little Tokyo offers up many surprises. If you love sushi like we do, this is the place to go and find a small slice of Tokyo in the heart of the city. Find all kinds of traditional Japanese fair at the markets located here, or enjoy a delicious sushi lunch at one of the many modern styled restaurants. After lunch, take a stroll through the two lovely Japanese gardens, one located at the Japanese Community & Cultural Center, the other at the New Otani Hotel.

Griffith Observatory And Park - Probably the best views of downtown Los Angeles and the Hollywood sign on a smog free day are from the observation deck here. Located at the end of Vermont Avenue in Griffith Park, there are also interesting and unique exhibits for you to enjoy. The park itself is over 4000 acres, and is the largest urban park in the world. There are many fun attractions to see here, including the Los Angeles Zoo, Travel Town with it's steam locomotives, and horseback riding tours.
Sunset Ranch Hollywood - Tour Los Angeles on horseback. Saddle up and ride over the ridge into Burbank, have a Mexican meal and ride back to the stables by moonlight. The ride to the restaurant is about 90 minutes, and the trails, although situated along the Hollywood Hills, are not rocky. The views are absolutely amazing, you will see the sun set on the way out to the restaurant, and the ride back underneath a blanket of stars is utterly amazing and very romantic. Be warned, 3 hours in a saddle can make you a bit sore, but this trip is totally worth the pain.
Universal Studios - This is a Hollywood Theme amusement park, but still worth visiting if you are a fan of movies or television shows. There is a backlot tour, several shows, and rides. Nearby is City Walk with several restaurants, stores, and music places. While in the area, drop by the NBC Studios for a live taping of the Jay Leno Tonight Show.

Grand Tour Of Los Angeles - This should be a must for all visitors as you get some idea of the size of the city and all its different tourist icons. There is no way a first timer could even come close to covering the same itinerary. Excellent value for money. Expect to see a lot in a short amount of time, including the Chinese Theater, Hollywood Walk Of Fame, Chinatown, Capitol Records Building, and much more.
Mulholland Drive - The Santa Monica Mountains, which separate Los Angeles from the San Fernando Valley, can be travelled via the spectacular Mulholland Drive. Driving the complete route takes about 2 hours, and at only a handful of places can you pull over to admire the view. But if you are faced with a smogless afternoon, this makes for a highly enjoyable and scenic driving tour. Fryman Canyon Overlook, which provides an excellent vista of the entire San Fernando Valley, is our recommended location to stop and enjoy the views. Make sure to have your camera handy, sometimes you will see celebrities walking their dogs in Laurel Canyon Park.
Marina del Rey - Blessed with a temperate climate and stunning beaches, Marina del Rey, a district of Los Angeles County, is a great spot for a romantic getaway while in Los Angeles. The world famous Venice Beach is home to artists and poets, muscle builders and performance artists, street vendors and eccentrics of every conceivable taste. Shop for souvenirs, catch a harbor tour, or rent a boat at the New England inspired Fisherman's Village, rent a bike or rollerblades and spend an hour riding along the flat, well marked bike trails, or stay at one of cozy B&B's in the area.
---
Los Angeles Accomodations & Restaurants

With such a large urban city to cover, it is impossible to narrow down your choices for a romantic hotel or restaurant. With over 100,000 rooms in all of Los Angeles, finding accommodations is easy. It all depends on your budget and where you would like to stay in Los Angeles, or it's surrounding areas. For a more quiet and relaxing stay, opt for accommodations on the outside of the city, either in Santa Monica or even the
San Fernando Valley
.
Beverly Hills Plaza Hotel
and the
Magic Hotel
are two of the more romantic accommodations while staying in Los Angeles.
Whatever you want to eat and however much you want to spend, Los Angeles restaurants leave you spoiled for choice. Cheap food is plentiful here, ranging from historic diners to street corner coffee cafes. Mexican food is about the closest food you will get to local Los Angeles cuisine, and you will find plentiful Mexican restaurants throughout any part of the city. Many of the city's higher end restaurants serve superb food in consciously cultivated settings, or you can try some of the smaller shops, delis and diners that serve home cooked meals for an affordable price.
More Los Angeles Tourism Information
Tripadvisor's Los Angeles Restaurant Guide
- You won't have a problem finding restaurant choices in the City Of Angels, now it's just a matter of what suits your taste buds.
Los Angeles Hotels & Inns - With over 100,000 rooms available, finding accommodations to fit your budget and style will be easy.
Hope you have a romantic vacation in Los Angeles, California.
Disclaimer: We have attempted to ensure this website is as accurate as possible. However, Fantastic Romantic Vacations accepts no responsibility for any loss, injury or inconvenience sustained by anyone resulting from this information. You should verify important information regarding all travel documents, health and safety, customs, and transportation with the appropriate authorities and agents before you travel.