Romantic Palm Springs Vacations
Ideas, Tips, & Attractions
Romantic Things To Do On A Palm Springs Vacation
Weather, Sights, and Accommodations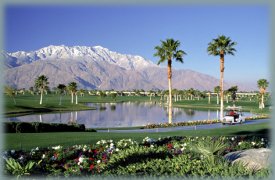 Palm Springs is a favorite destination for many North Americans, it's manicured golf courses and attractive desert setting lets you forget about the dull cold days of winter. There are plenty of romantic activities to do, including world-class golfing, shopping, and just soaking up the California sunshine. Palm Springs, and it's adjacent resort towns in the Coachella Valley, sit in the lush Colorado Desert, with the massive San Jacinto Mountains providing a welcoming and instantaneous backdrop over the area. Within this section, we'll detail the highlights of Palm Springs, and how to get the most out of your romantic vacation here.
When To Go? / Palm Springs Weather

With over 350 days of sunshine in a year...yes, you heard us right, there is not a bad time to visit Palm Springs. Just make sure to bring the sunscreen, flip-flops, and sunglasses in your suitcase. Even with all the sunshine, there are still slightly better seasons to visit than others, and here's why. In the summer months (May to July), Palm Springs is
very hot
, 40 Celcius, 105F heat. Don't worry, if you're still planning on visiting Palm Springs during the summer months, you probably are not going to venture more than a few yards away from the pool.
It only rains about 6 inches a year here, so if you are deciding a romantic vacation in February, leave your umbrellas and long pants and jackets at home. The average yearly temperature is a balmy 75F. The coldest months of the year are December and January, with the average high temperature is 70F and the low around 43F. January is also the wettest month on record, with average precipitation about 1.5 inches.
Palm Springs Regional Airport services flights from all over North America, with it's main air carriers being Alaska Airlines, United Airlines, and American Airlines. Flights leave daily from a number of US cities. For Canadians, Air Canada and Westjet Airways leave from all major Canadian centers on a daily basis.

If you are planning to drive into Palm Springs from within California, remember it's only a 2 hour drive from Los Angeles. If you are on a tight budget, it is less expensive to fly into Los Angeles (L.A.X.), rent a car, and drive the few hours into Palm Springs.
No matter where you are staying in Palm Springs, but if it is downtown, it's a great spot for walking. The best thing to do is pick up the Palm Springs Officical Vistors Guide. It's perfect for first time vistors, or just to know what is new and fun to do in the area. Part of the charm of Palm Springs is getting out and walking to breakfast or dinner.

---
Palm Springs Aerial Tramway
If the heat is becoming too much to bear, why not cool off and travel through five climatic zones on the
Palm Springs Aerial Tramway
. From the heat of the desert floor to the sometimes snow covered alpine hiking trails on the top of
Mount San Jacinto
, you will feel like you've travelled to somewhere completely different. Every thirty minutes, a large cable car sets off up the rocky
Chino Canyon
, bound for the mountain station some 8500 feet high.
At the top there are many hiking trails, a perfect way to escape the heat. There is also a restaurant and small souvenir shop. Don't forget the 360 degree views from several viewing decks that look down onto the Coachella Valley below. In the winter months, you can even strap on some skis and go cross-country skiing. The Palm Springs Tram is located on Tramway Road just off Highway 111.
Golf In Palm Springs

With a wide range of golf courses in the Palm Springs area, both private and public courses, why not book a tee time and spend the morning with a round of golf. The courses here will give you the experience of true
desert golf
, and with it's unique course designs and surrounding scenery, you can see why several major pro-golf tournaments are held here each year. Maybe you'll bump into Tiger Woods! If you plan on hitting the fairways, or perhaps missing them with your tee shots, we recommend an early tee time, probably shoot for
7 a.m.
, as it's best to get out early and avoid the heat.
Indian Canyons

Desert enthusiasts visit Palm Springs for the
hiking
and
riding
opportunities in these canyons. Located immediately west of Palm Springs, the most accessible of the canyons are
Palm Canyon
,
Andreas Canyon
, and
Murray Canyon
, known jointly as Indian Canyons. It is best to visit early in the morning or later in the afternoon, to avoid the heat. Bring plenty of water, and take a trek on the more popular
Palm Canyon Trail
in Palm Canyon. Not surprisinly, it is full of palm trees, with over 3000 of them in just a 7 mile radius. The trail itself is an easy 1.5 mile walk, and has a seasonal stream that runs along side of the trail.
A one mile loop visits the best of Andreas Canyon, noted for its glorious rock formations. Murray Canyon, which is more difficult to reach, but if you are prepared for a bit of a hike, you will be rewarded with a fantastic view of a 12 foot waterfall after your 2 mile hike. Open from 8am-4pm every day, admission is $7US. It is closed during the summer months, reopening again in October.

---
Other Points Of Interest In Palm Springs

When you're not soaking up the sunshine or cooling off in the pool, Palm Springs offers many other activities to enjoy. From the other Coachella Valley towns, to trailblazing the desert in jeeps, we'll list some of the highlights here.

Horseback Ride In Palm Canyon - For a total Wild West fantasy for two, Smoke Tree Stables at 2500 Toldeo Ave. offers one or two hour riding tours on the canyons. Tours start from 8am and will cost around $30 for a one hour ride.

Trailblazing In The Desert - Bike or take a dune buggy tour of the desert, Off Road Rentals or Desert Adventures offer adventurous 4X4 treks through several sections of the canyons and the Santa Rosa Mountains.

Palm Springs Day Spas - For a more relaxing atmosphere, visit one of Palm Spring's day spas. The Spa Resort Casino located at 100 North Indian Canyon Drive, gives you a sauna, spa, steam, eucalyptus rooms, and as much time in the swimming pool and fitness center as you desire. For more information on all the spas in the area, check the Palm Spring Visitors Guide.

Coachella Valley Towns - Although many people just know it as Palm Springs, there are actually 8 resort communities in the Coachella Valley. They are Indian Wells, La Quinta, Indio, Rancho Mirage, Desert Hot Springs, Palm Desert, Cathedral City, and Palm Springs. Swanky resorts, restaurants, and shopping are at every stop of this 20 mile sprawl between the communities.

Joshua Tree National Park - Call Elite Land Tours, they take you on an evening tour in an air conditioned luxury Hummer to Joshua Tree National Park. You go up in elevation to the high desert where it is much cooler. 36 miles of backcountry trails await, and they provide night vision equipment to see the wildlife at night. This is one of most unusual and fascinating places in California, with 800,000 acres of freaky trees that have ragged and gnarled branches. The trees can only be found at the northwest quarter of the park, and can be best appreciated at either sunrise or sunset.
---
Where To Stay / Where To Eat
Even though Palm Springs was designed for the rich, and has many big luxury resorts, you can see how the other half lives by visiting during the summer months. The temperatures do rise during this time, but the prices drop dramatically. Many of the larger hotels slash their prices up to
70%
, so if you're looking for a romantic luxury resort suite for an affordable price, this is the season to find it.
The north end of town along Highway 111 has the most affordable places. B&B's and inns are becoming a lot more common, and with double room rates at around $75US per night, they are a good bargain. Some of the top romantic accommodations in Palm Springs are 7 Springs Inn, Pepper Tree Inn, Palm Court Inn, and The Willows.
Palm Springs restaurants run the gamut, from super posh to fast food, with some reasonable ethnic options in between. Although the more famous restaurants in Palm Springs are quite expensive, more reasonable and affordable dining options can be found with relative ease. Popular Palm Spring restaurants are St. James At The Vineyard, Sherman's Deli & Bakery, and Aldente Pasta. We only scrape the surface of all the dining options in the Coachella Valley, check the Palm Springs Visitors Guide to see what restaurants suite you the best.
Disclaimer: We have attempted to ensure this website is as accurate as possible. However, Fantastic Romantic Vacations accepts no responsibility for any loss, injury or inconvenience sustained by anyone resulting from this information. You should verify important information regarding all travel documents, health and safety, customs, and transportation with the appropriate authorities and agents before you travel.