Holidays In Northern California
Spend a romantic vacation in Northern California or Redwood National Park.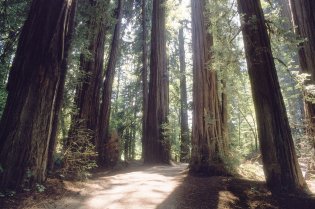 Way up in the top left-hand corner of California, the landscape changes from the rest of the state, and is it almost too spectacular for words. Tiny towns, thick dense redwood forests, and plenty of hiking trails make the long drive up here well worth the roadtrip. Remember, getting there is half the fun, and we totally agree on this point in regards to Redwood National Park. The park is a massive area that stretches up into Del Norte County at the northernmost tip of California.
Redwood National Park and it's three state parks that are located over some 58,000 acres contain some of the tallest trees in the world. There is plenty of time to explore the landscape while visiting here. Romantic and cozy B&B's or tiny inns can be found in the few small towns such as Crescent City or Orick. If you are looking for a no frill romantic getaway for two in a beautiful natural setting, this Northern California holiday is perfect for you. Below we'll list some romantic activities and attractions to see and do.

Travelling To Northern California
Your best mode of travel to Northern California is along the beautiful coastline route of
Highway 1
, which offers up stunning views of the
Pacific Ocean
along the way. We find the small towns along the way equally fascinating, with many opportunities to spend a romantic night in a
B&B
or small inn. If you are driving up from either
Los Angeles
or
San Francisco
, some notable stops along the way are
Big Sur
with it's gorgeous natural coastline, the quaint town of
Mendocino
that sits on a broad shouldered bluff with waves crashing in on three sides of it, and
Fort Bragg
with it's peaceful oceanside setting, perfect for walks along the beach.
---
Redwood National Park

Redwood National Park is 58,000 acres that are divided into distinct areas.
Redwood National Park
, southwest of the Orick Area, the Prairie Creek
Redwood State Park
, south of the riverside town of
Klamath
, and the area in the far north around the
Del Norte
and
Jedediah Smith
state parks, surrounding Crescent City. The most used entrance into the park is at the southernmost point near Orick. The major attraction here is
Tall Trees Grove
, home to some of the world's most impressive tall trees, one of which stands a massive 367 feet. Visitor centers and ranger stations will have detailed maps for you, and while there you must pick up a
free access permit
in order to drive into the park. The parks headquarters are located in
Crescent City
.

The most varied and popular of the three state parks is Prairie Creek. You will be able to see bear and elk romaing around in plain sight, and you can take ranger-led tours of the wild redwood forest. Whether you choose to go for a guided tour or set off independently, the main feature of the park includes the meadows of Elk Prairie in front of the ranger station, where you can see herds of elk roaming freely. Remember that the wildlife here can be unpredictable, so do not approach and be cautious. A mile's hike north of the ranger station you will find the magnificent Big Tree Wayside redwood, more than 300 feet tall and over 21 feet in diameter. It is one of the largest and thickest of all the coastal redwoods. Prairie Creek also has a couple of restaurants on the southern tip off of US-101, featuring wild boar roasts and elk steaks, along with a more traditional menu of great burgers and breakfasts.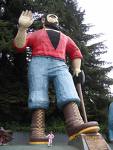 Klamath in Del Norte County isn't technically part of the Redwood area, and cannot be considered a town by any stretch, but this region does offer spectacular coastal views from the trails where the Klamath River meets the Pacific Ocean. The Trees Of Mystery is where you will notice two huge wooden sculptures of Paul Bunyan and his blue ox Babe. There are tape recorded stories that emanate out of the redwood stands, and nearby you will see the Cathedral Tree, where nine trees have grown out of one root structure to form a wierd but fascinating circle. Wedding ceremonies are held here every year, providing a dramatic backdrop for the ceremony and pictures. The entrance fee to the Trees Of Mystery is $20US.
While here, take the aerial tram up and over the top of the foot trail and the forest canopy to Ted's Ridge. Here you are provided with binoculars to enhance your ocean views to the west and tree filled cliffed ridges and valleys to the east. A nice photo opportunity is at the Klamath Overlook down Requa Road, from where once the fog has burnt off, there is an awe-inspiring view of the sea and the rugged coastline. Pick up the Coastal Trail from here and you will have over 10 miles of California's most remote and secluded beach.
Tour Thru Tree on Terwer Valley Road provides another cute photo opportunity for a $2 fee. The hole in the middle of the tree is wide enough to drive your car through, which is the most popular photographs taken here.
---
Northern Californian Romantic Towns

As we have mentioned already, getting to and travelling through Northern California is a lot of fun and quite exciting.
Highway 1
twists and winds along the edge of the
Sonoma Coast
through fog that usually disappears only in the afternoon. It makes for quite a romantic setting, a memorable roadtrip, and serves as a great introduction to the Northern Californian Coast and its small towns that line it.
Bodega Bay & Jenner - About 65 miles north of San Francisco is where you will find Sonoma County's first village. This marks a great stopping point for half a day. There are hiking and horseback trails about two miles north of the village at Bodega Head. It is a windy peninsula laid out across sand dunes that end in coastal cliffs behind the beach.
The best places to stay here are in the tiny seaside village of Jenner, a small friendly place which you can stay in cozy romantic cabins and cottages. The Jenner Inn - (10400 Hwy 1) - is surrounded by magnificent panoramic views of the Russian River waterfront, stay in the romantic creekside rooms or enjoy the privacy and serenity of one of the fabulous waterfront rooms or vacation homes. Stop by The Seagull Deli and enjoy some home cooked clam chowder while spending an afternoon on their riverside deck taking in the scenery. Between March and June you will probably see a few harbor seals in the massive sand spit at the mouth of the Russian River.
Healdsburg - A peaceful town that is at the border of Wine Country and the Russian River Valley off the coast on Hwy 101. A great spot for a picnic or a canoe ride is Veterans Memorial Beach, which is a mile south of here. There are some twenty wineries in the area for you to take a tour of, most are located within a few miles of the center of town. Romantic bed and breakfasts are around every corner of the area, stretching into the neighboring village of Geyserville. The Madrona Manor on Westside Road is a luxurious Victorian-styled bed and breakfast mansion that is perched on a hilltop with beautifully maintained gardens and a great gourment restaurant. Flying Goat Cafe just off the main plaza on Center Street is a perfect place to unwind after a busy day, with a newspaper and a fresh cup of coffee.

Mendocino - A very touristy village, it is almost impossible to find a spot in the area where you can't see the ocean sparkling off in the distance. A main tourist draw that brings visitors from up and down the coastal highway, mainly due to the extensive network of romantic bed and breakfasts, restaurants, and cafes. There is plenty to do around town, west of Main Street you will find hiking trails that lead out to Mendocino Headlands, where you can explore the cliffs and make your way down to the tidepools next to the breaking waves.
Two miles north of town is Russian Gulch State Park with its bike trails, beautiful fauna, and waterfalls. Sea cave tours are available, along with kayak tours of Van Damme State Park. The coast of the park is lined with sea caves that are carved by the relentless pounding surf.
After a day of exploring the many things to do here, go and pamper yourselves with a massage and a hot soaker tub bath at one of the town's numerous spas. For a great overview of accommodations and restaurants in the Mendocino area, visit Mendocino Coast Accommodations, where you can also book rooms at B&B's, hotels, cottages, and vacation homes for free.
Our romantic choice for accommodations in Mendocino is Reed Manor on Palette Drive. It's a five bedroom mansion with canopied soaker tubs and in-room telescopes to help you with whale watching.
---
Fort Bragg & Skunk Trains

Fort Bragg is a short nine miles north of Mendocino and is a much more blue-collar town than its southern neighbor. Sitting under a cloud of steam from the nearby lumbermills, there is an abundance of affordable and comfortable accommodations here, perfect if you are on a budget. A worthwhile few hours can be spent at
Glass Beach
, where a kaleidoscope of glass and crockery fragments make for a beachcombers dream.
A short drive from Fort Bragg will take you to Mendocino Coast Botanical Gardens, which is open year-round. Here you can see almost every wildflower you can imagine, all spread across 50 acres of the beautiful coastal region. Best time to visit is in April when the rhododendrons bloom and the gardens is at its most colorful.
To amuse yourself, and a fun and convenient way of getting to and from the coastline, is via Skunk Trains. Operated by the California Western Railroad, you'll be looking to spend around $50 for a round-trip ticket per person. This old fashioned train engine takes it's name from the days when piled up cars of timber were transported by these trains, and you could always smell the trains before you could see them coming. It's great fun to ride in the open observation car as it tunnels forty miles through mountains and rumbles across some thirty bridges through towering redwood trees. There are four or eight hour tours available, and they leave twice daily during the summer months from the Fort Bragg Depot.
B&B's are quite upscale in Fort Bragg, but are actually less expensive than in Mendocino. Grey Whale Inn B&B on Main Street has great views from all of its rooms, while the Old Coast Hotel on North Franklin Road has comfortable rooms in a beautifully restored 1890's building with a steak and seafood restaurant on premises.
---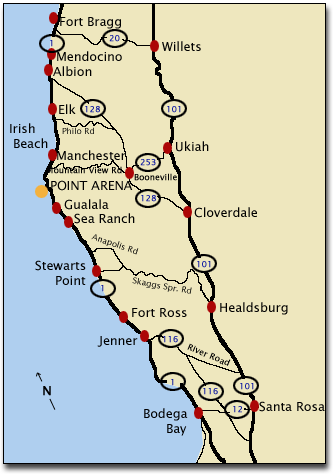 To help with your travels, we have provided a map of Northern California and its roads and highways. Hope this helps with your travel planning. Remember, it's a 90 minute drive from San Francisco to Bodega Bay, and upwards of 3 hours to Mendocino and Fort Bragg.
Please make sure to take note of the many connector routes that you can take from Hwy 101 to the Pacific Coast Highway 1, which is important if you decide to visit Healdsburg the Russian River Valley, or Wine County.

Have a great romantic holiday in beautiful Northern California
Disclaimer: We have attempted to ensure this website is as accurate as possible. However, Fantastic Romantic Vacations accepts no responsibility for any loss, injury or inconvenience sustained by anyone resulting from this information. You should verify important information regarding all travel documents, health and safety, customs, and transportation with the appropriate authorities and agents before you travel.