Thailand Romantic Vacation
Ideas, Tips, & Activities, Beaches, and Attractions for a romantic getaway or honeymoon

Thailand is many things to many people, but above all it is a place of romance. The kingdom casts a magical charm over its visitors and over the last number of years it has become a magnet for people getting married (or renewing their wedding vows), newlyweds on honeymoons, or people simply interested in a romantic getaway. And where else could be better, or more affordable?
From the breathtaking scenery of the north, to the beaches and islands of the south, and all in between, whatever sort of person you are, there's somewhere in Thailand that meets your mood and needs. Thailand's hotels are some of the best in the world, and its spas and other places where the focus is creating a sense of spiritual and the physical well-being add just that little something that makes your trip to Thailand extra special. What follows is a snapshot of romantic destinations for those getting married or in looking to Thailand for a romantic getaway.

Travelling to Thailand

There are no non-stop flights from North America to Thailand, but many airline carriers run daily flights to Bangkok from major east and west coast cities with only one stop en route. There are varying layover times for the connecting flights from the different airlines, but you can expect about a 18 hour travel time from Los Angeles to Bangkok, and a 18 hour travel time from Vancouver, both via one Asian stop along the way. A good choice for airfare would be to book a
Circle Pacific
ticket from a discount travel agent. This way, your itinerary would say start and end in Los Angeles, but would include taking in Tokyo, Hong Kong, Bangkok, Singapore, and Denpasar (Bali) along your way.
We booked a similar trip to Thailand through Cathay Pacific Airlines, their Asia Pass gives travellers access to 18 Asian countries over a 21 day window, all for one price. You can travel by air as much as you wish over the 21 days, so we decided upon a trip to Thailand, followed by Singapore, Malaysia, and then Hong Kong. If you don't live in New York, San Francisco, Los Angeles, or Vancouver, your travel agent can sell you a ticket on a domestic carrier to get you to one of the Cathay Pacific gateway cities. Even with the cost of that ticket included, the All Asia Pass is a terrific value.
---
Package tours are often expensive and are aimed at those who want total comfort, but can also be an excellent value to travellers. Some tour package operators in North America that service Thailand are Absolute Asia, Asia Pacific Adventures, and Royal Orchid Holidays.

Travelling within Thailand is both inexpensive and efficient, even though sometimes it's not always the most speedy. Unless you're travelling by plane, long distance journeys within Thailand can be arduous, especially if you are on a budget that will restrict you to no air-conditioning and hard seats. Buses are frequent and fast, with some being quite luxurious. Trains are a bit slower and safer, and they offer a chance to sleep during overnight trips, or give you a fantastic scenic route of the country-side. In the cities, share taxis and air-conditioned mini-buses are a handy way of making your way around, with ferries providing easy access to all the major islands.
---
Thailand Weather
There are three weather seasons in Thailand, rainy (June to October), cool (November to February), and hot (March to May). The rainy season, caused by the southwest monsoon dumping showers gathered from the Andaman Sea and the Gulf of Thailand, is the least predictable of the three weather seasons. The rainy season varys in length and intensity from year to year, but it usually always start in June. The most pleasant time to visit is in the cool season, although day time temperatures can still reach a hot 95F. The cool season offers Thailand's waterfalls in full spate, and the best flowers in bloom. Keep in mind that this is the busiest tourist season, so plan ahead to avoid any hassles.
---
Phuket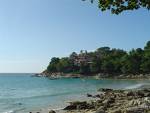 It's surprisingly easy to find a secluded and tranquil spot on
Phuket
, especially on the less developed northwest coast. Located 862 kilometres away from
Bangkok
, Phuket is located in the Andaman Sea and recognised as one of the Thailand's popular attractions for visitors. Phuket features a range of leisure activities from treks and walks to snorkelling and diving, all set against a lush tropical backdrop. Among Phuket's major attractions include
Karon, Kamala
and
Kalim beaches
, as well as
Patong beach
and
Promthep Cape
. Since Phuket offers up so much to see and do, here are a few places to go and see.
Click on the links below to open a new information window.