A Romantic Vacation In Singapore
Advice, tips, and ideas for a romantic stay in Singapore; South East Asia.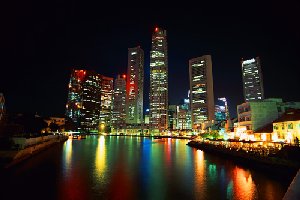 Singapore is proud to be called the Garden City, even in this carefully planned and maintained city, development hasn't meant the disappearance of green space. With over 400 parks to choose from, the city's nickname is well deserved. Singapore is one of only two cities in the world (the other is Rio De Janeiro), that has significant lush rainforests within it's city's limits. Singapore is not just one island, it comprises a main island with over 60 surrounding islets. The main island is only 40km by 23km, but is home to over 4 million Chinese, Indians, and Malays. A mix of modernity, coupled with a strong cultural heritage, will make your romantic vacation to Singapore one that you will never forget.
Travelling To And Around Singapore

Most major Asia-based airlines fly in and out of Singapore's
Changi International Airport
on a daily basis.
Cathay Pacific
with it's Asia Pass, along with
Japan Airlines
have daily flights to Singapore from Hong Kong or Tokyo. If you are travelling into Singapore via Malaysia or Thailand, you may consider taking the
train
. The luxurious and romantic
Eastern & Oriental Express
allows you to travel in style and comfort, while experiencing the mystical wonders of Singapore, Malaysia and Thailand. Bookings can be made via the website.
KTM Trains
offer a more inexpensive way of travel by train from Malaysia, check out their website for travel schedules and rates.
You have a few choices for airport transfers from Changi International. Taxi is perhaps the fastest and most convenient mode of travel. At all 3 terminals, you will find 3 taxi stations, where fully licensed taxis, that all run on a meter, will take you to all destinations within Singapore city. An average cost to the city will run you around $15 Singapore dollars. Many hotels offer an airport transfer in your package, so make sure to check the details, as there are numerous shuttle buses to and from the airport to various points of accomodation.

MRT, a efficient electric rapid transit train system, is an inexpensive and cheap way of travelling from the airport, or around the city. Changi airport has a station located at Terminal 2. Travel from airport to City Hall is about 35 minutes, while to Orchard area is about 45 minutes. Note that tickets are purchased in cash (local currency) only. A single trip for one person to City Hall is below $2 Singapore dollars. The trains run from 6am to midnight daily.
Weather in Singapore is very consistant year-round, if you can call it that. Sun on one day, pouring rain the next, or sometimes both in the same day. June and July are traditionally the drier months, while November through January are quite wet. Weather patterns are somewhat predictable, with the rains usually starting in the mid-afternoon, so always make sure to bring an umbrella.

---
Mount Faber Park

Mount Faber Park is one of the oldest parks in all of Singapore, and with its picturesque views of the city and it's harbour, it's the perfect spot for a romantic getaway. There are many private lookout spots for you to find here in order to enjoy a quiet moment with your loved one.
The Jewel Box
, a brand new building that resembles a musical jewel box, offers you the best variety of restaurants and bars with a cozy romantic ambience. For the most advbenturous romantic couples, take the
cable car
ride over to
Sentosa Island
. Hovering 70 meters above the ground, you will be amazed at the views.
Sky Dining
is a great romantic option for your cable car ride. Enjoy a romantic dinner for two in the cable car, with western and continental meals available, even vegetarian dishes too. A perfect idea for proposing, or just for enjoying a romantic dinner.
---
Esplanade

Enjoy a romantic day or night out along Singapore's Esplanade, which is located at the waterfront overlooking
Marina Bay
. Esplanade comprises of a 1500 seat concert hall, 2000 seat theatre, studios, and restaurants, along with a mall, cosmopolitan food outlets, and the Library. Theatres on the Bay is without a doubt, Singapore's most exciting performance arts venue. On any given night, couples can enjoy a wide variety of entertainment here, filled with local performances rich in culture. Outdoor performances and lunchtime concerts offer casual and light-hearted entertainment, go on and soak in the atmosphere!
---
Romantic Singapore River Cruise

Hop aboard and take a romantic cruise down the Singapore River on a traditional Chinese junk. This is a great way to see Singapore's own heritage, cruising your way down this historic river, with love and romance making for an exciting and invigorating ride. Along the way, you will pass by many shop houses, modern skyscrapers, colonial government buildings, and Singapore's water-spouting
Merlion Statue
at Merlion Park. There are many choices for a romantic dinner along the way at the wide variety of restaurants that front the river, or you could choose to have dinner on the cruise. Enjoy a sumptuous buffet dinner of Singaporean cuisine, with music for additional entertainment. A breathtaking experience for you to remember under a blanket of stars on the Singapore River. This cruise departs daily from
Clifford Pier.
Transfers to and from Clifford Pier are not included. Embarkation time is 15 minutes before the departure time. For more information, visit
SH Tours
.
---
Rochester Park

Rochester Park is a unique heritage area, featuring 11 beautiful colonial houses earmarked for development into a new F&B and lifestyle precinct complete with galleries, studios, spas and specialty retail boutiques. A spectacular backdrop of well-kept grounds, tree-lined paths, and green canopies welcome visitors here, and the area is home to some of the best romantic dining spots in Singapore.
One Rochester
(1 Rochester Park) , a charming wine watering hole and
North Border Bar and Grill
(2 Rochester Park) are two popular restaurants here. Famed romantic establishments such as
Da Paolo
(3 Rochester Park) and
Min Jiang
offer a wide variety of dining choices.
---
Midnight Dinner At Lau Pa Sat Festival Market

Meaning "Old Market" in Hokkien,
Lau Pa Sat Market
on Boon Tat Street is a national monument, and the largest Victorian cast-iron structure still standing in Southeast Asia. Built in 1894, it caters mostly to the office crowd during the day hours. But at night, Boon Tat Road is closed to traffic and pushcarts, making way for barbequed meats and seafood that line the street. Table manners are optional as you experience the best local al fresco dining.
---
Romantic Singapore Island Escapes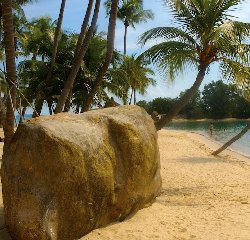 Sentosa Island - Possibly the most well known and popular isle of Singapore, Sentosa is the closest island retreat. There is lots to see and do here, including taking a walk through the tropical rainforest, playing with the dolphins, strolling along picturesque beaches, and sunset dining at the romantic Cliff Restaurant, with the stunning sea views and gentle breeze of the South China Sea.

Pulau Ubin - Want to catch a glimpse of rural Singapore? Located off the northeastern tip of Singapore, Pulau Ubin is the best spot to see it. Fish, duck and prawn farms, durian plantations, quarries, and tranquil beaches await. Chek Jawa, a unique coastal haven on the eastern tip, offers a wide range of marine flora and fauna in six major habitats. To travel to Pulau Ubin, jump onto a bumboay from Changi Jetty. The 10 minute ride costs $2 and boats operate daily 6am-11pm.
---
Romantic Singapore Accomodations
The Scarlet Hotel
- A truely unique and romantic getaway in Singapore, the design is wild with imagination. Scarlet houses two restaurants and a bar, with names that are associated with their different surroundings, and suiting different moods. Lavish, Opulence, Passion, Splendour and Swank. Lavishly adorned with red plush fabrics and traditional chandeliers, the hotel houses 84 guest suites, including the "Passion Suite", which is a perfect setting for romance. Best to book well in advance, the suite is always booked. A romantic dinner in order? "Desire Restaurant" is the answer. The hotel's restaurant has gastronomic menus such as Coming Dear - which is a lime flavoured chocolate mousse with sweet cherry capote. They even have an alfresco bar with scenic views of Chinatown.
Other great accomodations in Singapore are the Shangri La, with the garden wing perfect for honeymooners and couples seeking some privacy and romance. Sentosa Spa and Resort is a beautiful resort hotel, with their private villas catering to couples. Their private villas have their own private pool with 2 bedrooms on each side of a common living room with kitchenette, perfect for a romantic getaway.
More Singapore Tourism Information
Visit Singapore
- The official website for tourist information on Singapore
Singapore Restaurant Guide - Plan a romantic dinner for two. Pick your favorite hotspot or cuisine from a list of reviewed restaurants.
Hope you have a romantic vacation in Singapore.
Disclaimer: We have attempted to ensure this website is as accurate as possible. However, Fantastic Romantic Vacations accepts no responsibility for any loss, injury or inconvenience sustained by anyone resulting from this information. You should verify important information regarding all travel documents, health and safety, customs, and transportation with the appropriate authorities and agents before you travel.