Bali Romantic Vacation Ideas, Tips, & Accomodations
Attractions and Tips for Great Romantic Balinese Vacations Or Honeymoons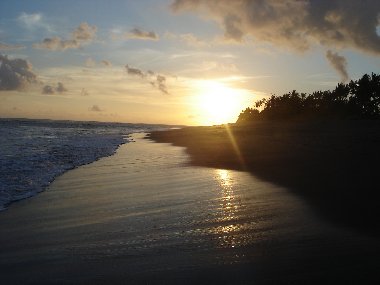 A small tropical Indonesian island, Bali is a magical and romantic place, filled with dense tropical jungle, long sandy beaches, warm blue water, crashing surf, and friendly people who don't just have a culture but actually live it. Bali is the main tourist destination in Indonesia, and after just one visit, you can see why. From dancing the night away on the beach to the beats of a live DJ to fine dining on the shores of the Indian Ocean, Bali offers many opportunities for a romantic couples vacation or a memorable honeymoon.
This tropical paradise has a unique blend of modern tourist facilities, combined with world-class shopping and a rich history. The Balinese people are proud of their Hindu culture, and there are several religious ceremonies at beautifully built temples each day to celebrate life. Bali is a shoppers paradise, particularly for casual and tailored clothing, locally made jewellery, handicrafts, antiques and artifacts. Try your luck in bargaining at one of the many local markets, or shop at the many modern shops in one of the shopping malls, Bali has it all.
We spent part of our honeymoon in South Bali and highly recommend it as a romantic destination for couples. From spectacular sunsets to its rich culture, Bali offers numerous romantic activities and attractions that will leave you wanting to come back again and again. Below we'll outline some of the romantic things to do in Bali, Indonesia, whether it be a place to propose, get married, honeymoon, or just spend a romantic getaway for two.
Getting To And Around Bali

Denpasar International Airport
at Bali is a small but beautiful airport. Flights from Singapore, Hong Kong, Kuala Lumpur, Bangkok, Tokyo, Melbourne & Sydney arrive here. Denpasar is included on
Cathay Pacific's Asia Pass
, and is a regular flight route for Quantas and other major airlines in South East Asia. When travelling from Australia, most people on package tours get airport transfers included in the price. These usually cost about $15 per head. There is a $25 arrival tax to enter Bali. We recommend arranging your visa and arrival tax ahead of time in order to avoid long lineups at the airport. Many flights usually arrive at the same time and you could spend upwards of about 2 hours in long lineups in order to pay the arrival tax and then pass through customs. We ended up having to do this and will definately arrange our visas ahead of time for our next visit. Please remember that for departing through Denpasar Airport, the fee is 100,000 Rp ($8 US).
The easiest and most cost effective way to get to your hotel is to walk outside the terminal and find the taxi counter. Buy a fixed price ticket to your hotel, as many of the taxis in Bali do not use meters. To Seminyak, the fare is 60,000rp per taxi (not per person) (about $5 US). Most hotel packages include airport transfers in the price, so make sure to see if this is included in your package deal.
The transit system in Bali is almost non-exsistant, but that doesn't make getting around the island difficult, it really is quite easy. Taxis do offer the quickest and cheapest way of travel around Bali, just make sure to have the driver use the meter, or if there is no meter, bargain for a fixed price before starting on your way. Depending on where you are going, the price will be very inexpensive, with a drive time of about one hour running you around $20 US. Most villa and hotel operators offer a car and driver service for their guests, usually charging about $20 for 8 hours, in which you will have your own private chauffeur to drive you wherever you wish. We did this and highly recommend it for travel into Seminyak or Ubud. Not only do you have somebody who knows how to navigate the winding chaotic and busy streets, but they can also act as a translator for you.

Romantic Bali Sunsets

A must for any romantic visit to Bali is to watch the sunset. Locals and tourists take time each night to watch the sunset, and it is not too hard to find a nice private spot on the beach in order to enjoy a romantic moment. In the south,
Seminyak Beach
offers some of the best spots for viewing the sun disappear over the Indian Ocean. The beach is lined with resorts and restaurants, and sometimes can be a bit busy with tourists, but if you walk along far enough, there are many private spots along the beach. Other romantic options are taking the sunset in at
Ku De Ta Club
located along Seminyak Beach. Sip a cocktail and enjoy some world-class dining as you sit back in a comfortable sunchair and watch the sunset.
Tanah Lot
, a Hindu temple that is built on a small island in the ocean and only accessible during low tide, is a popular tourist destination for sunset views. Golden red skies frame the temple and waves crash into the rocks, it is truely a romantic setting.
Tanah Lot

Tanah Lot, one of the most popular places of interest in Bali, is located on the coast of West Bali, at the village of Beraban in the Tabanan Regency. The temple Pura Tanah Lot, beautiful in its construction, is dramatic in its ocean-front location and is one of the main temples in the worship of Balinese gods. The temple itself is built on a small promontory which is only accessible at low tide. During high water the rock takes on the appearance of a large boat at sea, such is its shape. As we mentioned above, the best time to visit Tanah Lot is at sunset, but beware, this is also the peak time of day for tourists to visit.
Take A Balinese Cooking Class

If you really want to truely experience Balinese culture first hand, you must partake in a cooking class. Many hotels offer a Balinese cooking class in their package deals, and the experience is worth while.
Hotel Tugu Bali
offers a new dimension in cooking class with the Dapoer Soelastri Cooking Class at their
Waroeng Toegoe
, the 19th century Majapahit-era traditional open-air kitchen and dining hut. Together with their head chef and assistants, you will be taught, step-by-step, the unique, non-sophisticated, and traditional Indonesia cooking method. We were lucky enough to have a private cooking class for just the two of us, and it was truely worth every penny. From visiting a traditional Indonesian market to gather the ingredients for the cooking class, to sipping drinks at the hotel's private
Canggu Beach
, it's a great romantic activity for two.
Ku De Ta

A trip into Seminyak, Bali would not be complete without a stop at Ku De Ta. Situated on Bali's southwest coast where the white sands of Seminyak Beach meet the blue waters of the Indian Ocean, Ku De Ta stands alone as an oasis of elegance, style, and service. From sun up to sun down, Ku De Ta offers exceptional breakfast, lunch, and dinner menus, along with a late night cuisine in a beautiful tropical setting amongst the shade of coconut and frangipani trees. Whether starting the day off with breakfast at 8am, gathering at 4pm on spacious day beds for the romantic sunset, partaking in a romantic dinner for two, or dancing to a live DJ under a blanket of stars until the early morning hours, Ku De Ta makes for a sublime romantic experience no matter what time of day you visit.
Romantic Spa For Two

Experience the ultimate in relaxation with a soothing spa session for two at one of the numerous luxury spas in Bali.
Jari Manari
offers a Japanese theme atmosphere, with their specialty being a blend of long massage strokes, rocking, stretching, and palm pressure. They describe it as "dancing fingers". The
Spa At The Samaya
is a beachfront spa that has treatments inspired by the ocean, providing an experience that is uplifting, intimate, comforting, and romantic.
Sentosa Spa
,
Prana Spa
, and
Ubud Sari
are just a few of the many fantastic spas to be found in Bali. Check with your hotel or villa co-ordinator to book you a romantic spa treatment for two, there are many companies that will travel to your villa or hotel and perform the treatments in the comfort of your own room.
Propose, Honeymoon, Or Get Married In Bali

Bali offers the perfect romantic backdrop for proposing, honeymooning, or getting married. There are many private beaches that provide the most romantic setting for popping the question, especially during the sunset. Private villas and resorts offer a quiet and relaxing honeymoon for those who just want to get away from the hussle and bussle of city life. With your own private pool and a choice of romantic activities and restaurants, Bali makes for a romantic honeymoon you will remember for the rest of your life. Want to tie the knot in Bali?
The Legian and The Chedi Club - Tanah Gajah
in Ubud, along with
Tirtha Bali International
are the island's top wedding specialists. Be it a secret sunset ceremony by the sea or something more traditional in size and style, they offer many different wedding packages that suit your needs. Unique vistas and venues for that revered moment when you say "I do".
---
Romantic Villas In Bali

Bali is filled with beautifully designed private villas, offering a taste of traditional Balinese culture, blended in with modern design and all the ammenities you need. Many villa operators offer private suites ranging from 1-5 bedrooms, private pool, full kitchen, and an outdoor shower and bathtub. Below we'll list just a few of the top romantic villas to stay at in Bali.

Tamu Seseh - The villas at Tamu Seseh is where we spent our honeymoon for 10 days. Four invididually designed villas, which are located on the edge of a beautiful traditional Balinese fishing village. Tamu Seseh offers total tranquility and a rare glimpse of village life in Bali. Located about 15 minutes from restaurants, shopping, and nightlife in Seminyak, it is the perfect private location situated away from the busy tourist buzz in the city. Excellent food and service, and we cannot say enough about the staff, who made us feel like family while staying here. Facilities and services include semi-open air living space, kitchen, private pool, air-conditioned bedroom, canopied four-poster queen-sized bed, satellite TV, and a international dining menu. Special events, weddings, and honeymoon packages available, along with many activities such as bike riding, surfing, golfing, spa treatments, cooking lessons, and private car and driver. For those looking to spend a private romantic getaway in a traditional Balinese setting, we highly recommend Tamu Seseh.

Sentosa Private Villas - 32 elegantly appointed villas, 1-5 bedroom villas available with private pools, all located in the heart of Seminyak. Facilities at Sentosa Club include a modern Thai restaurant and Lounge Bar, Luxe Lounge Spa, state-of-the-art gym, 35 meter natural rock pool and sundeck, rooftop wedding pavilion, and a kids club with nanny service. The lavishly adorned villas with their chic interiors will astonish discerning leisure and business travellers alike. The villas provide guests with a sense of privacy and ultimate luxury, superior to a hotel room environment.

Ubud Hanging Gardens - Escape for the weekend or stay for a week at the Ubud Hanging Gardens. Stay in a deluxe-pool villa, pamper yourself with a 90 minute Ayung massage, enjoy a gastronomic dinner at Renaud Le Rasle's Beduur restaurant, and have a private breakfast next to your heated pool every morning. The villa operators offer a Saturday Night Sleep Over package deal that is a totally affordable escape for any Saturday night that runs until the end of every May. Honeymoon and romance and emotion villa packages are available year round.

Puri Ganesha - Voted one of the world's best "Beach Hideaways", Puri Ganesha is located in Pemutaran in Northern Bali. The villas have a modern day B&B feel to them, all with private spring-fed pools. The villas face east and are set in open gardens leading down to the sea, with antique rice barns for lounging on at the beach just a few steps away. Great food, service, and a romantic atmosphere make this a perfect location to spend your honeymoon or a romantic vacation, but beware, there is not a TV in site.
Romantic Restaurants In Bali

Bali is renowned for it's world-class dining, attracting some of the world's finest chefs to it's shores. There is a wealth of fine dining in Bali, with many international and local menus to choose from. We've listed just a few of our romantic favourites below. For a overview of Bali dining, check out
Bali Eats
to see what restaurant is perfect for your romantic getaway.

Paul's Place - Paul's Place is a romantic, gastronomic hangout, a rambling lifestyle village and social gathering place, complemented by a chic boutique and Meng Spa. From the open-air lounge on the ground floor, guests embark upon an eclectic culinary experience through a myriad of courtyards to the highest rooftop restaurant in Seminyak. A delicious Pan-Asian cuisine with three menus to choose from, including a fantastic vegetarian menu. Make sure to try their spicy Gado-Gado rolls, in which traditional ingredients of gado-gado are wrapped in rice paper.
La Lucciola - A romantic Italian beachfront restaurant along a deserted stretch of Seminyak Beach, the views of the Indian Ocean as you dine are memorable. An enormous open, thatch-roofed building, with dining on two levels. Make sure to ask for a table on the second floor, the views are more spectacular, plus there is a nice ocean breeze that will cool you down on a warm Bali evening. Morning menu highlights include tasty ricotta hot cakes and smoked salmon scrambled eggs on toasted focaccia. The dinner menu is equally enticing, with choice offerings such as lemon grass bok choy risotto with sesame ginger, and oven-baked snapper with braised shallots and oregano.
Breeze At The Samaya - Catch the ocean breeze with exquisite beachfront dining in a cool modern setting. Open for breakfast, lunch, and dinner, The Breeze bar and restaurant offers an exciting international menu with an extensive wine list, and your choice of open plan or open air dining. Drop in for sunset cocktails or book a candlelit dinner by the beach.
Hope you found these Bali romantic getaway tips useful and we hope that you enjoy your next vacation or honeymoon in Bali.
Disclaimer: We have attempted to ensure this website is as accurate as possible. However, Fantastic Romantic Vacations accepts no responsibility for any loss, injury or inconvenience sustained by anyone resulting from this information. You should verify important information regarding all travel documents, health and safety, customs, and transportation with the appropriate authorities and agents before you travel.